Richest Residents Reflect Region's Diverse Economy
Monday, December 13, 2021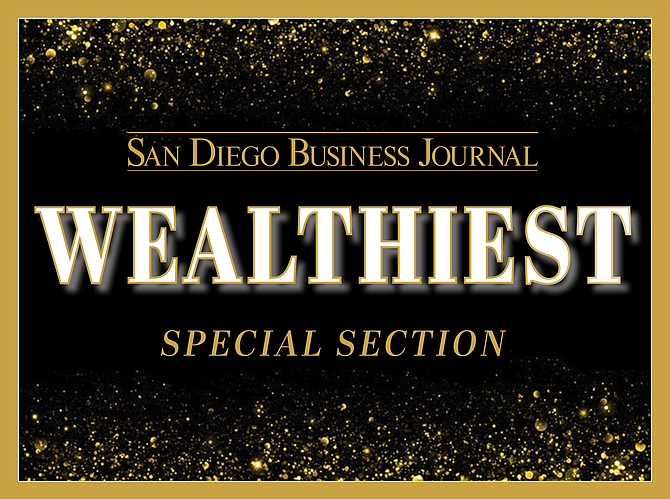 San Diego has more than its share of millionaires, including a decent number of decamillionaires, those whose fortunes total in the tens of millions of dollars, and hectomillionaires, those whose net worth reaches in the hundreds of millions.

The region is home to more than 102,000 millionaire households, third-highest of any Golden State city. Surprisingly, San Diego County has more millionaires than Santa Clara County, the heart of Silicon Valley.

What's more, San Diego's residential incomes are twice the national average, especially in ritzy enclaves like La Jolla and Rancho Santa Fe.

The net worth cutoff for this year's 
San Diego Business Journal Wealthiest list
 is $300 million.
 
For the most part, San Diego's 20 wealthiest are self-made. That list includes, for example, such names as the much beloved philanthropist Irwin Jacobs, No. 5, who help launch San Diego's largest public company, Qualcomm, and Doug Manchester, No. 8, the downtown hotel developer who has changed the profile of San Diego's bayfront skyline.
 
Jack White, former owner of Ballast Point Brewery (and offshoot Cutwater Spirits), ranks No. 18 on the list. He made his money in San Diego's craft brewing industry, a testament to the exploding popularity of beer-making in recent years.
Locals and Interlopers

The 2021 rankings can be roughly divided between those who grew up in the region, and interlopers attracted by the mild weather and 70 miles of beaches and the lure of good business opportunities.

Locals who stayed close to home making their fortune include hotel developer Manchester, membership store founder Robert Price (No. 10) and entrepreneur White.

Former out-of-towners calling San Diego home, whether full- or part-time include T. Denny Sanford, No. 3, who divides his time between a bluff top home in La Jolla and the Midwest. John J. Moores, No. 13, the former owner of the San Diego Padres, now spends his time between his business interests in Texas and Rancho Santa Fe.

The growth of the region's biotech sector has also played a key role in boosting the financial fortunes of several of the wealthiest, including Osman Kibar, No. 4, founder of startup Biosplice Therapeutics and Jay Flatley, No. 11, former top executive at gene sequencing machine maker Illumina.
Tech Titans

As the list attests, San Diego has turned out its share of tech moguls, including Jacobs and his co-founder at Qualcomm, electrical engineering genius Andrew Viterbi, No. 14, and former San Diego Padres owner Moores, who got his start in the early days of the tech boom by launching a software company.
 
Other techies on the list include entrepreneur Frederic Luddy, No. 6, who started ServiceNow, a giant software company that helps large businesses better manage their digital workflows.
 
To be sure, wealth is but one measure of the strength of the diverse business climate here. But the rankings do reflect the ever-growing importance of such sectors as biotech and tech, not to mention life sciences, financial services and defense contracting.

It's worth noting that there are at least six horse enthusiasts among the 20 wealthiest, not surprising given the exorbitant costs of owning and maintaining horses for such equine-related sports as jumping and thoroughbred racing.
 
Horse people among the wealthiest include Gwendolyn Sontheim, No. 1 on the list, an expert in jumping and dressage; Moores, who raises racehorses; Art Nicholas, No. 15, who raises quarter horses on a sprawling ranch he owns in Wyoming; and Martin Wygod, No. 20. He and his wife Pamela raise thoroughbreds. The pair's horses have won $21 million in lifetime earnings over the years.
World-class Philanthropy

Whether locally grown or imported, the wealthiest have made our community rich in so many ways beyond dollars and cents.

Irwin and Joan Jacobs have donated roughly $1 billion to the community through the Jacobs Family Foundation.
 
This figure represents well in excess of 50% of his net worth. His generosity has placed him on at least one list of the 10 most generous billionaires.

Sanford has given away more than $2 billion in his lifetime—thanks to a generous donation his name graces the innovative medical research at the Sanford Burnham Prebys Medical Discovery Institute.
 
He's vowed to die broke, but his businesses throw off so much cash that it has been hard for him to keep ahead of the flow.
 
One of his notable acts of charity was the 2019 $100 million donation to establish the T. Denny Sanford Institute for Empathy and Compassion at UC San Diego. He decided to make the gift after meeting the Dalai Lama right here in San Diego.
Read more about the 20 people on the San Diego Business Journal's List of Wealthiest San Diegans here.