FLEXIBLE WORK OPTIONS, INCLUDING WORK FROM HOME, ARE REPLACING THE OLD MODEL
Law Firms Reconsidering How They Use Space Post-pandemic
Thursday, December 9, 2021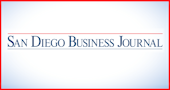 San Diego law firms are adjusting their operations in response to the pandemic, with 90% offering flexible work options - a dramatic change from pre-pandemic, according to a survey by the commercial real estate brokerage JLL.
"There's no one size fits all for anyone but it's clear that the old model of being in the office 12 hours a day is being replaced with a flexible work strategy," said Scott Schindler, a vice president of the commercial real estate brokerage JLL and a former lawyer.

Of the firms surveyed, 90% said they plan to switch to a flexible policy that would allow some time for working at home, although they also said that they would expect support staff to spend more time in the office than lawyers.

"If an attorney needs support, it's much better to have someone in the office free of distractions," Schindler said.

The survey found that only 7% of attorneys were required to be in the office four to five days a week and 41% said that they were not required to be in the office at all.
Options

Along with redefining the work day, law firms are taking a new look at how they use space, but most don't want to shrink the overall space they use, and few want to move as a result of the increase in remote work.

Only 7% said they'd consider moving to a different submarket.

"There's a big hesitancy to move because there's still a lot of uncertainty about what the new normal looks like," Schindler said. "Implicitly, that means they're not ready to make big decisions like that."

At the same time, law firms like other businesses want to keep their options open.

"Companies across San Diego, not just law firms, are reducing the lease terms they are comfortable signing right now," Schindler said.
Renovating

Prior to the pandemic, some firms were moving away from the traditional setup of private offices for lawyers to a more open model, but Schindler said some firms are rethinking that model. "Now they're just putting that wall back up," Schindler said.
 
Over time, he said he expects to see a lot of firms renovating their space.

"The improvements will come, but we need more time to evaluate what the future will look like," Schindler said.
 
"The focus on employees' physical and mental health will require law firms to have offices for lawyers but there may be hoteling involved," he said.

Hoteling refers to the practice of going without assigned desks or offices but allowing people to reserve them on days they expect to be in the office.

Among San Diego law firms surveyed by JLL, 67% wanted to repurpose empty offices to create more meeting space or improve areas to socialize and create rather than reducing their overall footprint.

Coming out of the pandemic, the law firms are looking for ways to encourage collaboration, a sense of community, and a way to give staffers a sense of the firm's culture.

Among other things, 67% said that they'd like breakrooms to help fill that function.

A third also said they'd like to improve office amenities such as kitchens and coffee bars.

"A lot of la firms are focusing a lot more on culture since attorneys and staff are not going to be in the office five days a week," Schindler said.