U.S. NAVY WILL PLACE DELIVERY ORDERS UP TO $655 MILLION THROUGH 2026
Ship Repair Contracts Go to Six Companies
Wednesday, December 8, 2021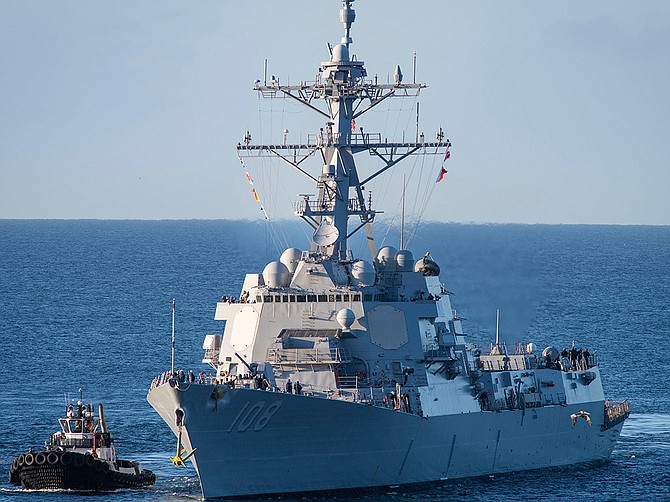 The U.S. Navy awarded contracts to six companies for complex repair, maintenance and modernization of non-nuclear Navy surface combatant class ships — specifically cruisers and destroyers — homeported in or visiting San Diego.
 
The companies are Epsilon Systems Solutions Inc., BAE Systems San Diego Ship Repair, East Coast Repair and Fabrication, Continental Maritime San Diego, Pacific Ship Repair and Fabrication Inc. and General Dynamics NASSCO.

For the next five years, the six companies will compete for delivery orders under the indefinite delivery/indefinite quantity contracts.

The contracts have a combined ceiling of $654.8 million.

These efforts consist of Chief of Naval Operations scheduled docking and non-docking, continuous maintenance and emergent maintenance availabilities. Work is expected to conclude in November 2026.
 
These contracts were competitively procured using full and open competition with seven offers received via the beta.sam.gov website. The Naval Sea Systems Command of Washington, D.C. awarded the contracts, announced on Nov. 30.
Kratos Receives International Work

Kratos Defense & Security Solutions Inc. (Nasdaq: KTOS) announced on Nov. 29 that its Kratos Unmanned Systems Division (KUSD) recently received a $4.1 million contract award from an unnamed international customer for high performance, unmanned aerial target drone system aircraft and related services. KUSD is a recognized industry leader in the design and production of affordable, high performance, jet powered, unmanned aerial aircraft and systems for threat representative target drones and tactical applications. Work under this contract award will be performed at secure Kratos manufacturing facilities and at customer locations. Due to competitive, security related and other considerations, no additional information will be provided related to this contract award.

"The recapitalization of strategic weapon systems by the United States and its allies is driving significant global demand for Kratos target drone systems, which represent certain leading technology system and platform threats of our peer adversaries," said Steve Fendley, president of KUSD. "At Kratos, affordability is a technology, and our high performance target and tactical drone systems are representative of our affordability mission. The broad application set of these drone systems as well as the speed at which they can be developed, produced, modified and reconfigured creates the high utility/affordable cost ratio, especially as compared to manned systems. The capabilities and performance per cost ratio is highly recognized and appreciated by our established and growing customer base."