RETAIL: $290M CO. PARTNERS WITH BRIGHT LIGHTS ACQUISITION CORP.
Manscaped Going Public Via SPAC Merger
Tuesday, December 7, 2021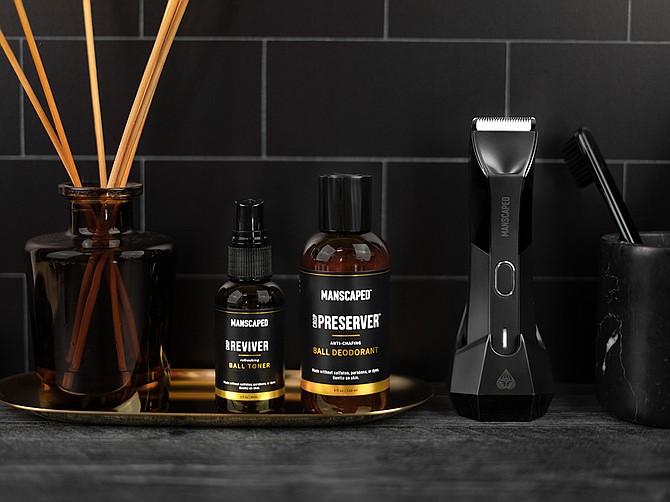 Manscaped
, the men's consumer lifestyle brand that specializes in grooming products, is going public via a special purpose acquisition company (SPAC) merger, according to the company's founder and CEO.

The Scripps Ranch-based company, with an annual revenue of $290 million, has entered into a definitive business combination agreement with Los Angeles-based Bright Lights Acquisition Corp.
 The transaction implies a combined company enterprise value of approximately $1 billion, according to Paul Tran, founder and CEO of Manscaped. Through international growth and product expansion, company revenue is projected to grow to over $500 million by 2023, Tran added.

The transaction is expected to close in the first quarter of 2022, at which point the resulting company will be called Manscaped Holdings, Inc. and listed on the Nasdaq exchange under the ticker symbol "MANS."
Next Multigenerational Brand

"Our company vision is to build the next multigenerational brand and, to do that, we knew that Manscaped had to be a public entity," said Tran, who founded the company in 2016 and oversees 200 employees. "It just so happens that now is the right time. The SPAC route was a fast, efficient and flexible way into the market, and we found a fantastic partner in Bright Lights. Mike (Mahan) and the team bring strategic value to Manscaped through their expertise and deep roots in celebrity partnerships, an area we are looking to grow and diversify."

"This milestone is a transformative transaction for the company that will fuel our immediate growth across our omnichannel platform," Tran said. "The funds raised will provide the resources needed to achieve scale through international growth, product expansion, increased brand identity and more… Our overarching ambition is to further our mission of helping men level up. This transaction will help us realize these goals, and on a global level."

Manscaped's products range from trimmers to deodorants and toners and are sold direct-to-consumer on Manscaped.com, shipping in 38 countries, including the United States, Canada, Australia, New Zealand, the United Kingdom, the European Union, Norway, Switzerland, Singapore, South Africa, the United Arab Emirates, and the Kingdom of Saudi Arabia.
 
Retail placement includes Target, Best Buy and Macy's stores throughout the U.S. and Hairhouse locations in Australia.
Self-Care Market

Mike Mahan, CEO of Bright Lights Acquisition Corp., said Manscaped "has a huge opportunity to capitalize on the sizable and growing men's self-care market by offering its unique line of grooming products. Bright Lights sought to partner with an exceptional company that could benefit from celebrity partnerships, and Manscaped's proven success and omnichannel platform company was the perfect opportunity for two world-class teams to come together. "

Mahan will join the Manscaped team as a board member. Tran will continue to lead as CEO.
 
The company's target demographic of over 900 million men worldwide represents an underpenetrated $70 billion global male grooming market opportunity, according to Tran.

The business combination implies an enterprise valuation for Manscaped of $1 billion, or approximately 2.6 times projected 2022 revenue.
 
The transaction is expected to provide $305 million in gross proceeds to the company, including a $75 million fully committed common stock PIPE at $9.20 per share from investors.
 
This includes funds managed by UBS O'Connor, Shaolin Capital Management, Signia Venture Partners, Guggenheim Investments, Endeavor, and an affiliate of Saban Capital Group LLC.
 
After closing, Manscaped expects to have $235 million on the balance sheet and no debt, said Tran.
Men's Health Issues

The capital raised as a result of going public will also help Manscaped with its philanthropic efforts, said Tran.

"A core component of the Manscaped brand is our longtime partnership with nonprofit organization Testicular Cancer Society," Tran said.

"Together, we aim to spread awareness on testicular cancer, the importance of self-checks, and other important men's health issues," he added. "With added resources, celebrity partners and our accelerated international roadmap, we will be able to reach and educate so many more men and women about this global cause."
Manscaped

FOUNDED: 2016
FOUNDER/CEO: Paul Tran
HEADQUARTERS: Scripps Ranch
BUSINESS: Men's consumer lifestyle brand specializing in grooming products.
REVENUE: $290M annually
EMPLOYEES: 200
WEBSITE: 
www.Manscaped.com

CONTACT: PR@Manscaped.com