HEALTHCARE: ORGANIZATION TAKES A VALUE-BASED APPROACH TO CANCER CARE
National Oncology Institute Opens 50th Clinic in Hillcrest
Thursday, December 2, 2021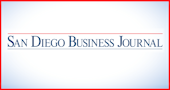 The Oncology Institute of Hope & Innovation (Nasdaq: TOI), a "value-based" community oncology group, has opened its 50th nationwide clinic in San Diego's Hillcrest neighborhood.
 
At a recent ribbon cutting held at the new clinic, located at 3965 Fifth Ave., Chief Operations Officer Dr. Daniel Virnich described TOI's mission of offering comprehensive, personalized cancer care in the local community.  

At the ribbon cutting, TOI physician and medical director, Dr. Phillip Saunders, also said TOI is "uniquely positioned" to provide patient-centric care. "At TOI, each patient receives tailored, innovative treatments administered with the utmost compassion and concern," Dr. Saunders said.
 
"We are honored to open our 50th location in Hillcrest and bring TOI's state-of-the-art oncology care to new communities across the country," Dr. Virnich added.

Bringing Diverse Resources to the Table
 
Founded in 2007 and headquartered in Cerritos, TOI is one of the largest value-based oncology practices in the U.S., taking accountability for both the quality of outcomes as well as the medical costs associated with a population of more than 1.5 million patients.
 
The Oncology Institute offers a diverse set of cutting-edge resources including:
 
•

    

A leading clinical research program offering patients access to more than 130 clinical trials.
 
•

    

Comprehensive dispensary services to offer convenience and savings to patients receiving oral chemotherapeutics.
 
•

    

A care management program which helps patients navigate a complex healthcare system.
 
•

    

A state-of-the-art website with educational resources, scheduling capabilities and a convenient patient portal.
 
"Our patient-centric model improves patient satisfaction and quality of life, ultimately reducing the financial burden on both patients and the broader healthcare system through lower drug costs, reduced hospitalizations and appropriate incorporation of end-of-life care," Dr. Virnich said. "This milestone brings us one step closer to expanding this innovative model across the country."
 
The Oncology Institute has over 80 clinicians and more than 600 employees in 50 clinics located across the United States.