Timken Museum of Art Receives $50,000 Grant from Conrad Prebys Foundation
Monday, August 30, 2021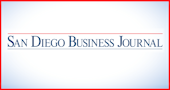 The Timken Museum of Art was selected by the Conrad Prebys Foundation to receive a $50,000 grant award in support of its capital improvement project. The Timken is one of 102 organizations, including 24 visual and performing arts grantees, that received funding from The Conrad Prebys Foundation as part of its summer 2021 grant cycle. 
The $90 million funding initiative provides San Diego organizations the opportunity to continue innovation while making a positive impact on the community.
"We take our mission of making fine art accessible to everyone very seriously, particularly on the heels of a pandemic when arts and culture are needed more than ever," said Megan Pogue, executive director of The Timken Museum. "We are honored and grateful to be among the many lucky recipients to be so generously acknowledged by the Conrad Prebys Foundation for our role in the community."
Travel & Hospitality reporter Mariel Concepcion can be reached at mconcepcion@sdbj.com or 858-634-4625.