Port of San Diego Promotes Karen Porteous to EVP, Chief of Staff
Wednesday, August 25, 2021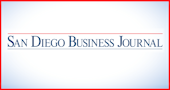 The Port of San Diego has announced the promotion of Karen Porteous to executive vice president and chief of staff. 
Porteous previously served as vice president and chief administrative officer. In that role, she was accountable for human resources, people & organizational development, office of the district clerk, and information technology, including the chief technology officer and the chief security officer. Her experience in the private sector spans more than 13 years, including working in the human resources departments for H.J. Heinz Corporation and Raytheon Service Company.
"Next month, Karen will mark 26 years of service to the Port," said Joe Stuyvesant, president and CEO of the Port of San Diego. "Her deep institutional knowledge of the Port, as well as her broad general knowledge and experience in business and government are extremely valuable to me and the executive leadership group as we navigate these times." 
Travel & Hospitality reporter Mariel Concepcion can be reached at mconcepcion@sdbj.com or 858-634-4625.