SDBJ INSIDER
Partnership
Monday, August 23, 2021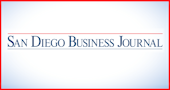 Two future partners both started with the same company, 50 years ago on Aug. 23, 1971. Little did they know then that a year later, Rich Papike and Gary van Eik would become partners and buy the company. That partnership is now beginning its 51st year together as San Diego's TriStaff Group of Companies.
The company has become one of the most successful staffing and executive search companies in the nation.  
"People have asked us many times over the years how you have a partnership last that long and my answer is always the same. We were both raised by blue collar parents, my partner Gary was raised on a dairy where both his parents worked and my dad was a steel worker so we both knew the value of hard work. We coupled that with sales experience, a lot of luck and a similarly crazy sense of humor and voila, it's been an amazing 50 years," said Papike. 
Currently, TriStaff places temporary employees all over San Diego County and does executive search in energy, accounting, banking, construction, and IT. 
Endera, the San Diego-based technology company specializing in all-electric commercial vehicles, charging infrastructure, and software solutions has announced that Mark Barczak has been named director of manufacturing at its manufacturing facility in Ottawa, Ohio. The Ohio facility gives Endera the capability to deliver commercial electric vehicles in all 50 states. Barczak brings 30 years of experience designing, leading and driving large-scale and highly efficient manufacturing solutions to Endera. He has extensive OEM engineering and sales experience in the bus, ambulance and work truck markets and specializes in developing highly customized purpose-built vehicle designs.  
"Having Mark on our team presents an opportunity to be a changemaker and to create better and more efficient ways to manufacture Endera commercial vehicles," said John Walsh, Endera's CEO. 
A ceremony was held Aug. 17 at Montgomery-Gibbs Air Field to unveil Rady Children's Hospital's and Mercy Air's new look for its emergency transport helicopter. Rady Children's Emergency Transport team provides 24-hour emergency critical care transport to more than 2,000 neonatal and pediatric patients a year in San Diego, Imperial and Riverside counties. The colorful new helicopter features silhouettes of children flying kites.