SDBJ INSIDER
Coming to Coronado
Monday, August 16, 2021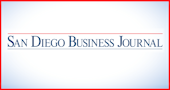 Life Itself
, a three-night retreat bringing together more than 50 speakers from disciplines who intersect in the fields of health and medicine has announced its 2021 location as the Hotel Del Coronado. The conference begins at 5 p.m. on Tuesday, Sept. 28 and concludes on Friday, Oct. 2.
Top speakers announced for the event include: Dr. Anthony Fauci, director of NIAID; Rochelle Walensky, director of the CDC; Larry Brilliant, founder and CEO of Pandefense Advisory; Bill Gates, co-chair of the Bill and Melinda Gates Foundation, Patrice Harris, president of the AMA; Omar Ishrak, Intel chairman; Francis deSouza, Illumina CEO, and Stephane Bancel, CEO of Moderna.
Life Itself was co-founded by Dr. Sanjay Gupta, chief medical correspondent for CNN and associate professor of Neurosurgery and practices at Emory University Hospital, and Marc Hodosh, a co-creator of TEDMED, the health and medical version of the TED Conference.
Tickets run $4,000 for the exclusive event and attendees are limited and reviewed in "order to curate an audience of thinkers, leaders, inventors, and entrepreneurs from technology, research, entertainment, government and business." Vaccinations will be required.
+++
The
 Pacific Southwest Association of Realtors
has announced its 2022 board of directors . The 2022 directors for the 3,500 member San Diego real estate trade group are: Max Zaker, president; Jason Lopez, president-elect; Sam Calvano, secretary-treasurer and Ditas Yamane as immediate past president.
Directors serving on the PSAR board include: Mike Anderson, Merrie Espina, Rafael Perez, Amy Ruiz, and Amber Tannehill, and Andrea Martino as a affiliate director. Also serving on the board after their election to two-year terms include Anthony Andaya, Camille Bruno, Paula Gonsalez, Dylan Graham and Norma Scantlin.
The organization was founded in 1928 and provides its members with California Regional MLS services, educational training, and resources.
+++
Mariza Marin, assistant director of San Diego Field Operations for U.S. Customs and Border Protection completed the executive leaders program at the Naval Postgraduate School Center for Homeland Defense and Security on Aug. 5.
Marin has held many leadership positions within U.S. Customs and Border Protection and has been responsible for managerial oversight of border security programs with the San Diego Field Office. Her responsibilities include five land border ports of entry at Andrade, Calexico, Tecate, Otay Mesa, San Ysidro.