SDBJ INSIDER
Quality Care
Monday, August 9, 2021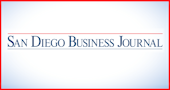 The 
University of San Diego School of Business
 will offer staff and faculty access to thousands of high quality child care programs, nannies and after school programs in the San Diego region through 
TOOTRiS
.
USD is the first private university to use San Diego-based TOOTRiS. TOOTRiS is an on demand child care platform that connects all stakeholders in the child care process – parents, child care providers, employers, and service organizations. The platform is known for providing real time inventory of program availability to parents while providing child care providers and easy solution to manage the enrollment process and automate administrative functions of their small business.
"Affordable, quality child care is a critical support service that empowers students, facility and working families," Tim Keane, dean of the USD School of Business said. "We're excited to partner with TOOTRiS and provide our people access to this innovative, real-time child care service."
+++
Encinitas automotive detailer Jose Junco of High Performance Auto Detail was chosen to help prepare a rare 1947 Cistalia 202 Coupe designed by 1940s Italian carmaker Pinin Farina, for exhibition at the Concorso Italiano on Aug. 14, and for competition at the Pebble Beach Concours d'Elegance on Aug. 15.
The Cistalila 202 Coupe is the only known remaining version of the designer's 200 Coupe left. Made of three pieces of hand-beaten metal with a single stage automotive paint, its permanent home is in the Petersen Automotive Museum in Los Angeles.
Junco is a successful automotive paint specialist and is a dually certified skills validated member of the International Detailing Association. He also served on the Air Force One detailing team at Seattle's Museum of Flight.
"It was quite the experience, and I am honored to have been part of it. We will be pulling for the car to win a ribbon next week. The competition is brutal, but this car is a true work of art," said Junco.
Junco opened his Encinitas-based auto detailing company in January 2014 after working for several of the most successful car dealerships in San Diego.
+++
David Leadbetter will be featured in the American Cancer Society's 18th Annual San Diego Invitational golf tournament Aug. 30. Leadbetter is known as a legendary instructor to golf professionals.
Played at the La Jolla Country Club, the invitational has a strong and growing impact on the American Cancer Society's mission.