RENOVATION COMPLETED ON CARLSBAD BUILDING
Thermo Fisher Expands Operation
Wednesday, August 4, 2021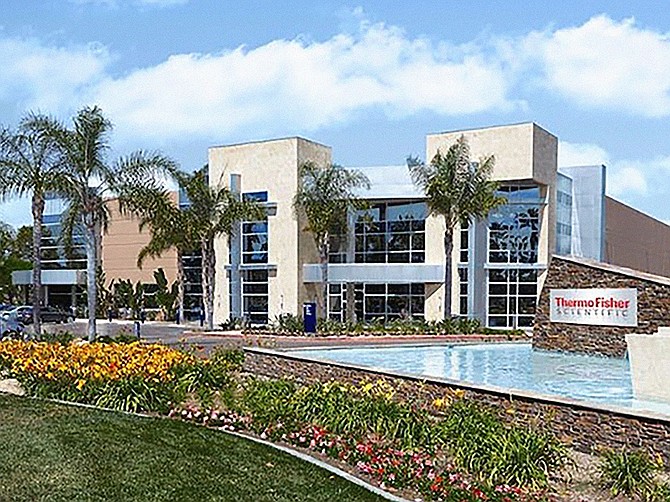 Thermo Fisher Scientific
 has completed renovating a 67,000 square foot building on its Carlsbad campus at 5791 Van Allen Way that will expand the company's clinical and commercial capabilities for manufacturing plasmid DNA.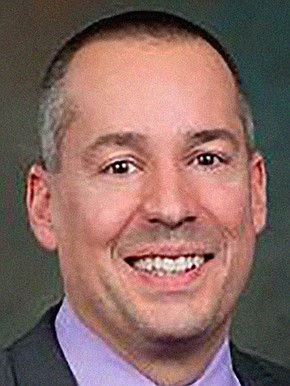 Plasmid DNA is used as a critical raw material to develop and manufacture cell and gene-based therapies including life-saving cancer treatments as well as vaccines such as those used to combat COVID-19, according to the company.
Thermo Fisher was among the first companies to produce testing kits for COVID-19 and provides other equipment in developing vaccines and equipment for COVID research.
A First

The new manufacturing operation "provides us with greater infrastructure to support timely, cost-effective and scalable production of plasmid-based vaccines and therapies," said Leon Wyszkowski, president of commercial services, commercial operations and plasma services.
"With our new facility, we are delivering commercial plasmid DNA at a significant scale to address the current gaps in the market," Wyszkowski said.
He said that the new operation is the first commercial-scale DNA manufacturing facility in Carlsbad.
Working on the renovation were DPR Construction headquartered in Redwood City with offices in San Diego, CPCA Architects based in Carlsbad, and CE&JC Laboratory Design Consultants.
Thermo Fisher didn't disclose the cost of the renovation.
"The demand for cell and gene therapies and DNA vaccines has increased, especially in the wake of the (COVID-19) pandemic, with the global supply of plasmids not meeting the current and projected demand," Wyszkowski said. "Demand for commercial plasmid DNA is outpacing supply as the development of transformative gene therapies and vaccines accelerates globally."
Wyszkowski said that Thermo Fisher's new Carlsbad operation "will manufacture materials that are vital to produce plasmid DNA-based therapies and mRNA based vaccines and will play an important role in building capacity for the industry to realize the potential of these treatments."
"The facility features state-of-the-art, advanced technology, including single-use technology, used in the production process of cell and gene therapies," Wyszkowski said. "Single-use technology means that our product doesn't come in contact with any part of the facility, equipment, material or component that would be re-used for another product run. Everything is used once and consumed during the process."
Adding Workers

Thermo Fisher chose its Carlsbad campus for the manufacturing operation in what it calls its Center for Excellence because of the area's strong talent pool and extensive workforce already in place.
The company has about 2,500 employees in three buildings in Carlsbad. The new project is expected to add about 150 workers by the end of 2021 and possibly an additional 100 in 2022, Wyszkowski said.
The overall Carlsbad campus is about 600,000 square feet.
Statewide, Thermo Fisher has a workforce of about 8,000.
No additional expansions are planned for the Carlsbad campus but Wyszkowski said that the renovated building was designed to enable the manufacturing capability to grow.
Thermo Fisher's expansion of its Carlsbad campus comes as the life science real estate market is exploding with demand for space reaching record levels and vacancy rates plummeting.
The commercial real estate brokerage JLL reported that 2020 was a record year for the life science, with more than 2.2 million square feet of total leasing activity with 92 leases signed.
That momentum has continued into 2021 with more than $4.9 million in venture capital funding secured by San Diego County life science companies in the past nine months, according to JLL.
Vacancy rates have dropped to 4.3% and nearly 1.7 million square feet of space has been leased in 70 transactions for the first have of 2021, according to JLL.
Thermo Fisher Scientfic

Founded: 2006
CEO and President: Marc Casper
Headquarters: Waltham, Massachusetts
Business: Life science company providing equipment and pharmaceutical services
Annual Revenue: $25 million in 2020
Stock symbol: NYSE: TMO
Employees: 75,000+
Notable: Thermo Fisher Scientific was among the first companies to produce test kits for COVID-19
Website:
www.thermofisher.com
Contact: 1-781-622-1000