TOOTRIS HAS 32,000 SERVICE PROVIDERS ON PLATFORM
Child Care Co. Aims to Expand Nationwide
Thursday, April 29, 2021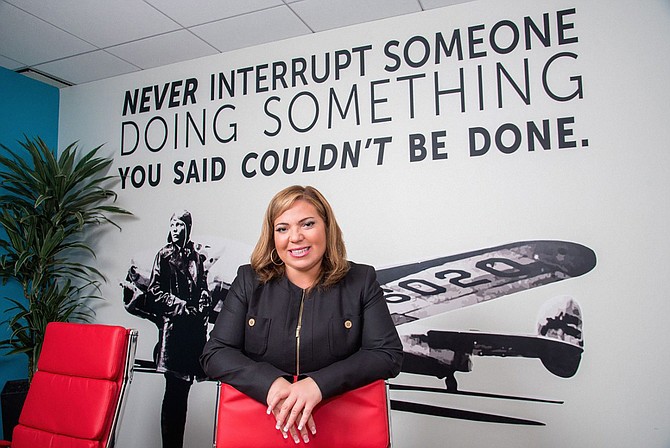 One of the biggest problems for parents is finding a safe environment for their children while they work. Sorrento Valley-based startup, TOOTRiS is helping solve that problem.

"The vast majority of families need it, and it's really hard to find, hard to afford, and hard to assess quality," said Alessandra Lezama, founder and CEO of TOOTRiS, who experienced the problem first hand, adding that childcare "is no longer optional."
Lezama, came up with the idea for the company in 2019. Before that, she was the chief executive at private-equity backed AbacusNext. managing over 500 employees.
 
TOOTRiS' mission is to connect parents that need quality childcare with providers in the community. A software as a service (SaaS) company, the startup states that it has created the first ever tech-enabled child care platform.

Helping Over 32,000 Childcare Providers
TOOTRiS is a tech-enabled platform for childhood educators and family-owned child care centers. It provides an all-in-one solution helping child care centers streamline their operations, allowing users to manage their licensing status, marketing, tuition rates, reviews, as well as search openings at local centers.

Over the last two years, the company has been onboarding family childcare centers and center-based organizations to create a complete real-time availability database. The database provides visibility to parents and providers, said Lezama.

"TOOTRiS is a single platform that has created the possibility for all shareholders to connect and transact in real time," said Lezama. "Around this time last year, we had less than one hundred childcare providers on our network. Today — amid the COVID-19 crisis — we now have more than 32,000 statewide."

"We have also helped providers build out their digital presence online at no cost," she said.
 
Helping Businesses Grow
The share of households where both parents work hit 66% in 2016, up from 49% in 1970, according to the Pew Research Center. The shift has created a boon for the daycare industry, with revenue expected to top $54 billion in 2021 and growing 4% year over year.

Although business slowed when the pandemic first hit, the company has seen steady growth as the industry rebounds from the impacts of the coronavirus pandemic. TOOTRiS's chief data officer Eric Cutler said the pandemic has decimated child care centers across the nation, with many closing permanently.

"We have existing technology that can help these providers not only stay in business but grow their business," said Cutler. "TOOTRiS is creating a new digital economy that promotes entrepreneurial opportunities for individuals with passion and talent to become child care providers, improving their quality of life while increasing the much-needed supply of child care across California."

In compliance with the current state licensing requirements by the Department of Social Services, TOOTRiS also employs a set of additional background testing, training, certifications, and technology, ensuring safety and quality.

Employers are charged a monthly fee to gain access to the company's suite of tools and services, however both providers and parents have free access to the online marketplace. The company also generates money from advertisements. Annual revenues were not disclosed.
 
Expanding Nationwide
Successfully scaling its platform in California, Lezama said the plan moving forward is to leverage technology to create more accessible childcare and early education options for children and families nationwide.
 
Early last year, the company moved into its new headquarters in Sorrento Valley to accommodate growth, it employs 16. It has raised an undisclosed amount of venture funding and is actively raising capital for its Series A financing round.

"As a San Diego startup we initially focused on making an impact in our region and was extremely successful, even during the early-stages of COVID. Last year, we gradually expanded north and became 100% penetrated across California," she said. "Next quarter, we will be rolling out into 10 more states and by the end of this year, we aim to be in all 50 states."

"It's a very ambitious goal," said Lezama.