SPEAKEASY SHOWS COS. HOW TO SELL DIRECTLY TO CONSUMERS
Alcohol E-Commerce Co. Thrives
Thursday, April 29, 2021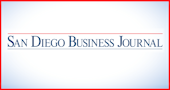 Since last March, alcohol sales have been a bright spot in the troubled COVID-19 economy.
One local company, Speakeasy Co., is bearing the fruit — pun intended.
Founded in 2015 and headquartered in Little Italy, Speakeasy Co. is a direct-to-consumer platform that handles all technology, warehousing and order fulfillment for alcohol and spirits brands, allowing its clients to increase reach, control and scalability.
In 2021, Speakeasy Co. is projecting revenue growth of more than 400% compared to the reported $4 million in revenue it made in 2020 and over 2600% from 2019, according to a spokesperson. In December 2020 alone, it sold more than all of 2019, as per Founders Michael Bowen and Josh Jacobs. And, a Speakeasy Co. partner who had $5,000/month in sales in January 2020 increased that figure to $65,000/month by December, just to give an example.
So far, Speakeasy Co., with 21 employees, is up to 210 partners, including national players such as WhistlePig and Tesla Tequila, the latter which sold tens of thousands of bottles within  4.5 hours of launching on the platform.
"Industry leaders agree that the digital transformation was inevitable in the alcohol industry, it just took a pandemic to really ignite it," said Bowen. "At first, it was a forced innovation to thrive, but over the past year, brands of all sizes have realized that e-commerce and building a community presents a long term differentiator to thrive. According to IWSR (a company that provides data and analysis on the beverage alcohol market), in 2019 e-commerce represented just 1% of liquor store sales. However, the growth we are experiencing is quickly transforming the landscape, and by 2024, this is projected to grow over 700%."

How it All Works
According to Jacobs, the way Speakeasy Co. works is quite simple.
Previously, brands only had the option to sell in stores or on-premise, meaning restaurants and bars. But, this isn't enough real estate to engage consumers, he said, especially if you are a new brand on the bottom shelf. The only online outlet that existed before Speakeasy Co. is the traditional online retailer, said Jacobs, where brands can't control the look, feel, design or messaging of the page, he said, and have no ability to track and see if customers are indeed purchasing their products.
What Speakeasy Co. does is it integrates a shopping cart directly onto the brand's website so that the owner can control the user experience from end to end, said Jacobs, with no other brands or distractions and, most importantly, ownership of the customer data to continue scaling.
 
How it Got Started
The path to the current iteration of Speakeasy Co. wasn't a seamless one.
Back in 2015 and inspired by the likes of Blue Apron, a food subscription service, and BirchBox, which ships beauty samples in a box, the company was launched as a craft cocktail subscription box service. That quickly morphed into a site that resold full size spirits bottles, and then, a few months later, a company that offered dedicated landing pages for each  of its 50 SKUS at the time.
"The defining moment was when a new potential partner said, 'Josh, rather than a dedicated landing page on your website, can you build us our own site, where we have access to all the tools, capabilities and analytics of a true e-commerce company, while still remaining compliant through your systems and relationships?'," recalls Jacobs. "That was the eureka moment."
Summer of 2017, Jacobs and Bowen built that website and launched its first beta partner with its current business model. Right out the gate, that company sold hundreds of bottles per month, said Bowen. Later that same year, Speakeasy Co. dropped its original subscription service idea and focused entirely on the DTC platform. In February 2018, it launched its second partner and the first on its proprietary platform.

What's Next?
Speakeasy Co. was bootstrapped until August 2020, when it sought strategic venture capital funding to fuel the growth of the company. It eventually partnered with Goat Rodeo Capital, focused on beverage alcohol. Terms of the deal were undisclosed.
Moving forward, Bowen and Jacobs hope to continue on-boarding new partners and making investments across the business, including in technology and logistics, with the objective of creating a better solution for its customers.