FINANCE: SAN DIEGO FIRM RAISES MILLIONS, SEEKS DISRUPTIVE TECHNOLOGIES
Local Investors Join SPAC Movement
Monday, April 26, 2021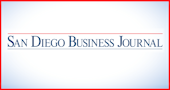 La Jolla-based Nocturne Acquisition, which is headed by a former Qualcomm executive and leaders in the cryptocurrency industry, disclosed in a regulatory filing April 1 that it raised more than $100 million in proceeds from an initial public offering.
The special purpose acquisition company, or SPAC, began trading on March 31. The company, which filed confidentially on Dec. 29, also completed a private sale to investors that generated proceeds of $15 million.
A SPAC is a shell corporation listed on a stock exchange with the purpose of acquiring a private company, thus making it public without going through the traditional initial public offering process.
Nocturne has not yet identified an acquisition target. It intends to target businesses focusing on blockchain and artificial intelligence.
 
Targeting Up to $1 billion
The company is led by Chief Executive and Chairman Henry Monzo, who is co-founder and CEO of Katena Computing Technologies as well as CFO of artificial intelligence technology company Luminous Computing.
He is joined by Chief Financial Officer and Director Thomas Ao, who currently serves as CEO of MCL Financial Leasing.
Katena Computing Technologies, is a bitcoin technology company backed by Jaan Tallinn (co-founder of Skype) and executives of Qualcomm.
"We believe disruptive technology companies that focus on blockchain and artificial intelligence are potential attractive targets. Our management team has extensive international experience in disruptive technologies, business operations, investments and merger and acquisition transactions," said Monzo.
The company plans to target businesses in the disruptive technology market with equity values between $300 million and $1 billion.
Nocturne Acquisition listed on the Nasdaq under the symbol MBTCU, currently trades at $10.25 a share, up 25 cents.

Other Local Investors
Nocturne joins the avalanche of investors who have taken a SPAC public over the past year. Since Jan. 1, 296 blank check companies have raised more than $96 billion in IPOs — surpassing the $83 billion raised in 2020.
La Jolla-based Anzu Partners, San Diego's fourth largest venture capital, recently joined the SPAC race with its $420 million SPAC. Anzu Partners in a statement said "it seeks to find and cultivate early stage industrial and life science technology companies."
Roughly 200 companies went public in 2020 through a SPAC, according to IPO analytics firm Renaissance Capital, raising about $64 billion. The trend exploded even more in 2021, with $77 billion invested in SPACs in the first quarter alone, reports data firm SPAC Research.
Howard Lindzon, a serial investor and entrepreneur who lives in Coronado, said SPACs are similar to other investor strategies, but noted that it's not for everyone.
"It's definitely a unique tool, SPACs tend to come in and out of popularity," said Lindzon. "I think what's different this time around is that the government has been printing money, rates are very low, both wealthy people and firms have a lot of capital to deploy."
"There's also a lot of great software companies that has been created over the last five to 10 years that wasn't able to become a public company until now. So, I think it's a combination of all these things," he said.
Lindzon, recently launched his own SPAC, called the Social Leverage Acquisition Corp. It plans to target businesses in the fintech, enterprise software, or consumer technology sectors with enterprise values above $1 billion.

Law Firms Benefit
Law firms are one of the biggest beneficiaries of the blank-check company IPO boom. In total, law firms advised on a record 105 SPAC deals in the first quarter, nearly double the number from the final quarter of 2020, according to data from Refinitiv.
Ilan Katz, an M&A partner at Dentons LLP, said somewhere between a quarter and a third of his time in recent months has been spent on SPAC-related transactions.
"2020 was a very busy year for SPACs and the first quarter was just as busy," said Katz. "I think we are now at a point where there is a pause, but we're still seeing SPACs and IPOs almost every day. Overall the number of them has definitely decreased a bit," said Katz. "Having said that, I think the SPAC trend will continue."
Amit Singh, a partner at Denton's San Diego office and co-head of the Firm's Southern California Venture Technology group, said the region remains a "hot area" for SPACs, especially for life science deals. A multinational law firm, it is actively hiring in San Diego and Los Angeles, with roughly 20 staffers locally.