EDUCATION: SEES 500 INVENTIONS IN 2020
UCSD Produces 760 Startups
Sunday, April 25, 2021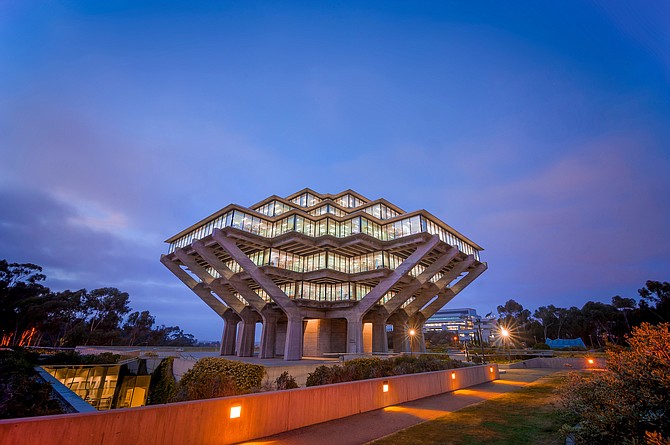 Research, innovation and entrepreneurship remains strong at the University of California San Diego (UCSD), which continues to produce new startups at a high rate.

UCSD Chancellor Pradeep Khosla said the university has seen a 153% increase in licensed startups and a 120% increase in industry funding since 2014. In FY20 faculty and staff disclosed 500 new inventions and received over 200 new patents.

In total, he noted there are 760 UCSD-affiliated startups that generate about $16.5 billion in annual revenue and employ 100,000 globally, including 74,000 people in San Diego.

"Invention is in our DNA," said Khosla. "Just last year, our research program generated more than 500 new invention disclosures, including over 200 new patents. UC San Diego has emerged as a world-renowned scientific, medical and engineering innovation hub that is providing real solutions to some of the planet's most challenging issues."

1,000 Companies Launched
More than 1,000 companies have been launched or licensed fueling acquisitions by tech giants like Cisco and Apple. Among the startups spun out of UCSD is VelosBio, which was acquired last year by Merck in a deal worth up to $2.75 billion.

Chris Loryman, senior innovation commercialization manager at UCSD, said the university is a major driver of the regional economy as an employer, service provider, customer to local businesses as well as helping draw other businesses to the area.

"In regards to new company formation, we believe UC San Diego is the second in the U.S., behind only MIT. It also graduates more engineers than any other university in the world," said Loryman.

He said that most of the start-ups are tech-focused or research-based, many which can apply for multi-million dollar Small Business Innovation Research (SBIR) funding, among other grants.

"Software and therapeutics are the two biggest categories that we see filed in patents and licenses," he said. "Not every startup is going to be a unicorn company (valued over $1 billion) but everyone's got a possibility of going out and raising money."

Innovation Ecosystem
Sandra Brown, who will retire from her position as vice chancellor for research at UC San Diego this summer, helped pioneer the way by creating the office of commercialization and innovation (OIC), which helps students, faculty and staff get their research out of the university and into the real world.

She tapped former life science executive Paul Roben and Silicon Valley venture capitalist Greg Horowitt to create a dynamic "innovation ecosystem" that turns ideas into products that solve problems big and small — which has largely driven a big part of the growth the university is seeing.

"Over the past five years, we have made it easier for credible groups to pull technologies out of the campus and public administration," said Roben. "The entire process is frictionless , anyone can license technology from the university as long as they have a good plan."

"In addition, we have aligned ourselves with a number of different investment vehicles, partnering with a number of angel investor groups, venture firms, and companies," he said. "We also entrepreneurs find office space, build out their management teams, as well as provide them access to the university's core facilities


—

basically everything you need to build."

Human Capital and Relationships
Similar to other universities, the office holds equity in many of the startups as a result of the licensing agreements it has negotiated with them, said Horowitt.

He also noted the goal is to build relationships and trust with the community, adding that so-called exits and other successful company outcomes are the byproduct of that.

"We've transitioned from an 'office-based transaction' model and focused pretty heavily on the relationship model," said Horowitt. "The relationship always comes first, because when we do a good job at that, we create the types of transactions that happen efficiently and more effectively as well."

Horowitt said the university is working closely with the city of San Diego to ensure there is "entrepreneurial thinking" and enabling them to see possibilities rather than problems.

"If you distill it all down, a university's role is to produce people and technology," said Roben. "Our goal is to develop the people and the human capital piece to be the most successful contributors to our society."

In March, the university established its chapter of the National Academy of Inventors (NAI), an effort to help the campus "build and sustain" a more robust innovation ecosystem.

Another initiative includes the university's Poseidon Innovation partnership, in which Deerfield Management committed $65 million to accelerate UC San Diego's drug development cycle. It also has partnerships with Blackstone Group Inc. and Autobahn Labs, among others.