WEALTH MANAGEMENT: PROFESSIONALS WORK TO MAKE SENSE OF A CHANGING INVESTMENT LANDSCAPE
Shaking Up the Status Quo
Sunday, April 25, 2021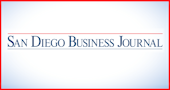 The investment landscape of 2021 has a color all its own.
The U.S. government's response to the coronavirus pandemic has been to increase the money supply. That stimulus has been driving investment activity and market returns.
Interest rates are low, ideal for many borrowers but less than ideal for a person who leaves cash in a savings account.
"I've seen real estate go crazy, stocks go crazy," said one local wealth manager.
San Diego's wealth managers are working to interpret the changing landscape for their clients and make the best of the assets in their charge.
Clients want to know several things, they say, including how a new administration in Washington might affect their personal financial situations.
"We have been getting a lot of questions from clients regarding the Biden Administration's proposed changes to the estate tax threshold," said Jodi Vleck, founder and wealth manager with Beta Wealth Group. "It has been floated that this threshold will change from roughly $11.5 million per person to $3.5 million per person, which would prompt a significant change in estate planning for clients."
In spite of a challenging economy, public interest in corporate behavior — in environmental, social and governance issues — remains high.

Big Changes
Local wealth managers had all sorts of answers when asked about the most significant change they have seen in the investment world over the last 12 months.
"Personal investors were challenged to understand that the stock market is not the economy, stocks could recover before the health pandemic was fully resolved, and both declines and rebounds in the stock market can come more quickly than anticipated," said Alana Asmussen, lead advisor and principal with Dowling & Yahnke Wealth Advisors in San Diego. "2020 was the perfect example of how important it is not to expect to be able to time the markets."
"The vaccine rollout has helped the global economy expand, as cyclical sectors continue to recover," said Bambos Charalambous, managing director at J.P. Morgan Private Bank.
Paul Thiel, president of the San Diego region of Northern Trust, said the recent acceleration in the role of technology in people's lives created a profound change in the investment landscape. "What was a gradual shift to a more digital world sped up to unimaginable levels," he said. E-commerce counted for 5% of U.S. retail sales in 2009, growing to 15% in 2019. It gained 10 percentage points over the course of a decade. "Then in first two months of the pandemic, it shot up to more than 25%. That's a decade's worth of change in eight weeks!"
That change was reflected in the markets. Apple reached $1 trillion in value in its first four decades in business, and then picked up another trillion dollars of value in the spring and summer of 2020.
Vleck sees communications technology playing a role. "The impact of social media on the stock market has been eye opening to see," she said. "The 'GameStop Phenomenon' and retail investor fear of missing out has driven certain companies to eye popping valuation levels." A confluence of several factors has been credited with influencing the wild swings in GameStop's stock price. They include the rise of social media as well as retail trading — that is, regular people using brokerage accounts.
News headlines on COVID-related progress have driven an interest in certain types of stocks, said Matt Hansen, financial advisor with UBS Wealth Management USA. When COVID cases were rising, investors shifted to "stay at home" stocks such as technology, healthcare and biotech. When case numbers dropped, there was a sudden shift to "recovery" stocks, including consumer discretionary, energy, financials and industrial.

A Wake-up Call
"The last 12 months have woken people up."
So says Chantel Bonneau Stewart, wealth management advisor with Northwestern Mutual. Clients may be reevaluating old habits such as leaving an investment in an index fund — simply being a passive investor
"After a long bull market, the volatility of 2020 has driven consumers to reassess the true risk profile they are willing to withstand," she said. "Similarly, the yield on bonds has made consumers consider where they can seek safety and performance relative to inflation. Overall, the last 12 months has forced many to become more proactive in their investment strategy for the next decade."
Of course, there have also been changes in the day-to-day routines of wealth management professionals. Like many, Mark Delfino finds himself working from home. Delfino is CEO and managing principal of HoyleCohen.
One of the most striking things about the last 12 months, he said, is that his firm has taken on clients without first meeting in person. These include the three largest clients brought on since late 2020. "No one has ever met them!" Delfino said. In addition, clients who would never use technology for a meeting have changed their ways.

A Strategy for Real Estate
One defining aspect of 2020 and 2021 is interest rates. "The Fed has sufficient runway to keep rates low as the labor market continues to recover and inflationary forces lag elsewhere," said Charalambous of J.P. Morgan Private Bank. "In order for investors to find yield in the current environment, alternative assets such as real estate or infrastructure can provide income, enable diversification, and protect against inflation."
A REIT, or real estate investment trust, can be one way to own real estate. These companies own (and in many cases, operate) income-producing real estate.
"What 2020 did to some parts of the real estate market should further reinforce the value of using REITs to capture a diversified exposure to that asset class rather than trying to just buy an investment property outright," said Asmussen of Dowling & Yahnke. "REITs contain a myriad of different types of real estate exposures (cell phone towers, data centers, product warehouses, etc.) that didn't suffer in the same way some specific residential or commercial buildings did in the downturn."
Multifamily real estate can be a good area for investment, particularly when buildings house a community's essential workers, said Jeremy Kovacevich, HoyleCohen's senior director of advisory services and development.

ESG Holds Investor Interest
In the years before the pandemic, the investing public became more interested in aligning their investments with their personal beliefs. ESG — or environmental, social and governance issues — took on greater importance. That interest still holds 14 months into the pandemic.
Mark Kremers sees it. "… [T]he national dialogue has resulted in some clients reflecting more on topics such as racial equality and climate change, and a desire to align their investing goals more closely with their values," said Kremers, managing director and market executive with Merrill Lynch Wealth Management.
"The prevalence and quality of ESG investment options has continued to increase," said Asmussen, adding that something about the past year seems to have held investor interest. "In this time when many have struggled with feeling a loss of control over their environment, investors are even more interested in having an influence by where they put their investing dollars," she said.
Interest is shifting from simply making money to "capitalism with a cause," said Hansen. "UBS and other financial firms want to make sure we're doing our part to make world a better place."
In the United States, the idea of a virtuous investment varies by region. Vleck of Beta Wealth Group said many of her clients from Southern states "are more biblically driven," judging investments by religious criteria and avoiding involvement with businesses such as gambling or alcohol. Californians, by contrast, may judge the virtue of an investment by what it does for the environment.
 
Surprises
Wealth managers interviewed said they have found opportunity in surprising places.
"Given the historically low level of interest rates, it is difficult to find investments that generate yield," said Vleck. "We have utilized alternative investments in portfolios to solve this problem. We find that writing put options are particularly attractive, and are surprised that we have been able to generate such high returns given that volatility has declined significantly from a year ago."
"Small and mid-cap made a nice comeback at the end of 2020," said Stewart.
"We have been surprised to see the sudden recovery in international and emerging market stocks," said Hansen of UBS. "Over the past several years there has been uncertainty with the earnings and growth potential of foreign corporations. COVID affected these two sectors much more negatively than U.S. stocks, however as the number of infections and deaths have lowered, we are seeing better growth potential overseas than we have in the past."
Charalambous has taken notice of healthcare. "The confluence of healthcare data and AI is accelerating the speed of innovation in healthcare, and med tech in particular, given the nature of the pandemic."
A common piece of advice to investors is to diversify. Middle class investors, however, might miss one point about that need, Thiel said. They should not forget they are already heavily invested in the vertical market in which they work. For that reason, a hotel manager should think twice about investing in airlines, hotels and restaurants — even though that may be the world he knows most about.
"For most workers, their most important and concentrated income-generating asset is their job," Thiel said. "Think of that [job] the way you would an investment, and make your actual investments in other sectors." Hospitality tends to be good when the economy is good and it suffers when the economy is bad. So if the economy declines, the hotel manager might see his salary and bonus cut, or lose his job, and at the same time, see his investments suffer, too.
The person would have been much better off if he was invested in something that is needed in both good times and bad — such as consumer essentials or utilities.
"You can't double down on your risk," Thiel said.

Where Emotion Meets Discipline
Being a wealth manager not only involves in-depth work with stocks, bonds and other assets. "I love working with people," said Asmussen. People are "bombarded" with news, Asmussen said, and turn to their financial adviser for answers on what it all means. In addition to being an interpreter, a wealth manager is a counselor, helping clients deal with the emotions that financial decisions bring.
Asmussen said many investors are asking about cryptocurrency, given its performance. "We don't make recommendations" regarding it, she said, though she is happy to help clients understand what it is. It's very speculative and an interesting phenomenon — but at this point, she said, you can't use it to buy gasoline at the station down the street.
"The value of long-term investing has been exemplified during the last 12 months of market highs and lows," said Kremers of Merrill Lynch. "As I have observed throughout my career, volatility is part of the fabric of the market. Instead of short-term reactions, we advise our clients to stay focused on long-term investing goals."
"Investment discipline is what our firm and our portfolios are built on," said Vleck.
"Make sure fear and greed are not drivers of an investment decision," said Stewart of Northwestern Mutual. An investor needs to make a plan, and stay committed to it through both emotions.
Thiel counsels patience during up markets and down markets.
"One of the things we all learned in 2020 was the unpredictability of the world, and trying to guess the next life-altering event is a fool's errand," he said. "Our philosophy is to adopt a strategy that helps you achieve your goals over time, and avoid getting giddy or depressed over market movements."
 "When confronted with a challenge, human beings are hardwired to react," said Charalambous. "But research suggests that our compulsion to act can become a problem when it comes to investing."