HEALTHCARE: ADDITION TO LA JOLLA CAMPUS REFLECTS FUTURE
Scripps Building $644M New Hospital Tower
Sunday, April 25, 2021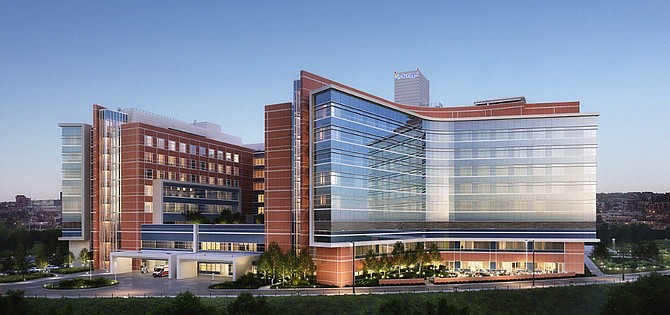 ​​​​Scripps Health has started construction of a $664 million hospital tower on its Scripps Memorial Hospital La Jolla campus on Genesee Ave.
The seven-story new tower will mirror the adjacent $456 million Prebys Cardiovascular Institute that Scripps Health opened in February 2015.
The two towers will be connected on five of their seven floors by an enclosed bridge that will be built as part of the new tower project.
"This addition to the Scripps La Jolla campus truly will reflect the future of medicine in ways that will benefit both patients and staff members and medical providers," said Dale Mitchell, Scripps La Jolla chief of staff.
"Hospital rooms will have the flexibility to change as patient care and practices evolve," said Mitchell, a physician who specializes in obstetrics and gynecology.
The 433,000 square-foot new glass-and-brick tower will include 108 private medical beds across three floors, 12 medical/surgical observation bays, nine operating rooms, 61 flexible pre-operating and post-operating/post-anesthetic rooms, three interventional radiation suites, and MRI/CT and radiology imaging suites.
"For me, it is one of the most beautiful hospitals you're going to see in San Diego by far," said Chris Van Gorder, Scripps president and CEO. "The whole idea is not just that it's beautiful but that it meets the patients' needs."
Patient rooms in the older tower are semi-private while all the patient rooms in the new tower will be private rooms with upgraded technology that patients can use for everything from ordering food service to tracking their care.
New Women's Center
Also included in the new tower will be a 92,464 square-foot women's center spread over three floors – levels one, three and seven.
The women's center will have 36 post-partum rooms, 13 labor and delivery rooms, five antepartum rooms, a 24-bed newborn intensive care unit designed in collaboration with Rady Children's Hospital, a nursery overlooking a rooftop garden of the neighboring tower and a family waiting area.
The newborn intensive care unit also will have rooms that can be reconfigured to accommodate future needs.
"We have our current women's center that was designed years ago and it was fragmented," Van Gorder said. "Now all of this is going to be state of the art from the post-partum rooms to the ante-partum rooms."
Mitchell said patient rooms in the women's center will adjust to the specific needs of patients, "a feature that will be particularly advantageous to our obstetrics team caring for women experience high-risk pregnancies."
An air ambulance helicopter landing pad will be installed on the roof of the new tower, supplementing a ground level landing area.
Van Gorder said that in emergencies, it can be faster to land on the roof and rush patients to an elevator to take them to a trauma center in the hospital than to land on the ground.
The hospital will retain a ground helipad for heavier helicopters.
"A lot of helicopters can't land on buildings any longer. Some of the military aircraft are too heavy for that," Van Gorder said.
Scripps' trauma center serves North County, including Camp Pendleton.
Healing Light
Construction of the new tower is slated to be finished in 2024 – the 100th anniversary of Scripps Health's founding by Ellen Browning Scripps.
"That will be a magical year for us," Van Gorder said, adding that the new tower is "building the future legacy for Scripps."
Designed by HGA architects with McCarthy Building Companies as the general contractor, the brick-and-steel construction of the towers is designed to blend in with the older brick buildings on campus.
With floor to ceiling windows, the design of the new tower also place a premium on letting as much natural light enter as possible.
"Light is healing so this building is very well suited to it with natural light for both staff members who are working there and patients," Van Gorder said.
The new tower is part of a 25-year master construction plan unveiled in November 2010. The site of the two towers had been a surface parking lot.
In addition to the two hospital towers, the master plan included the 2016 construction of the $130 million Scripps Clinic John R. Anderson V Medical Pavilion on the La Jolla campus.
Scripps Health serves more than 600,000 persons annually with a staff of about 3,000 affiliated physicians and a workforce of more than 15,000.
It has five acute-care hospitals including Scripps Memorial Hospital in La Jolla and 28 outpatient centers.
Speeding Construction
In a novel approach to its construction, the new tower will be permitted and built in phases in coordination with the California Office of Statewide Health Planning and Development (OSHPD) to help speed construction, said Steve Van Dyke, vice president and project executive of McCarthy Building Companies.
"We were able to break up the project into seven increments," Van Dyke said. "It allows us to expedite the schedule, which helps save money on the tail end." The new tower will be paid for through a combination of operating revenue, borrowing and philanthropy.
Donations included $6.75 million from the Conrad Prebys Foundation to help pay for the building's operating rooms.