RESTAURANTS: $21M CO. BANKING ON BRAND EQUITY IN SOUTHWEST MARKET
Crack Shack Implements Growth Strategy During Pandemic
Sunday, April 25, 2021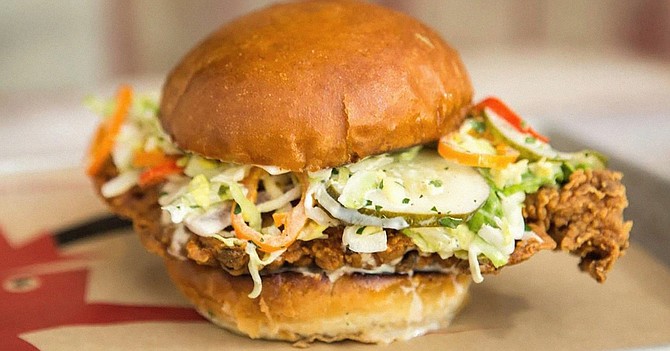 The fried chicken market has been arguably one of the top trending food segments during the COVID-19 pandemic.
To that point, an August 2020 article by Restaurant Business Online stated: "When historians write about the U.S. response to the pandemic, they will surely note one curious development: Americans consumed A LOT more chicken wings."
Crack Shack Enterprises LLC, founded in 2015 and headquartered in Little Italy, isn't an exception.
With five locations in Southern California and one in Las Vegas, Crack Shack Enterprises, doing business as The Crack Shack, has implemented a growth strategy that is allowing the company to expand its operation amid the pandemic.
 
Brand Equity
In 2019, the company's revenue was north of $25 million. In 2020, after experiencing a 30% dip mainly due to the temporary closure of the Las Vegas location as a consequence of the novel coronavirus, it is projecting to reach $21 million in sales.
By September, Dan Pena, director of operations for the company, said The Crack Shack will have opened another eatery in Salt Lake City. Roughly six months after, it plans to launch two more locations in as-yet-undisclosed cities, preferably also in the Southwest, he said. In 2022, The Crack Shack plans to open another seven units.
"Salt Lake City is a great market for the brand and its right in Savory's backyard – they have intimate knowledge of the real estate there," said Pena, alluding to the September 2020 deal it signed with the Utah-based investment firm. "We placed trust on their team to find real estate in that market. We were looking for our expansion to be in the Southwest portion of the United States, where we have brand equity and people know us. Salt Lake City is the first one. We hope to be in other markets closer to San Diego within 12 months from now."
While the exact financial terms of the deal with Savory weren't disclosed, the investment firm committed to providing the necessary capital for The Crack Shack to open three more units. The original timeline was 12 months from the signing date, said Pena, and would focus on markets outside of California. Now, he projects once the Salt Lake City operation is up and running, it will take another eight months or so to open the additional two for business.
Added Andrew K. Smith, managing director of Savory: "With Savory's vast experience developing and operating hundreds of restaurant locations and ability to successfully execute investment strategies through trying economic cycles, we're uniquely equipped to grow The Crack Shack during the pandemic and beyond."

Better Chicken Concepts
For Michael Rosen, founder and CEO of The Crack Shack, it is consumers' demand for "better chicken concepts" that has kept the company on a path of growth even through the economic decline.
What makes his fast-casual food place stand out among the rest is its commitment to sourcing quality ingredients (The Crack Shack uses antibiotic-free, "beyond free range" Jidori chicken and Gonestraw Farms eggs), he said. It also offers a variety of chicken-based menu items, added Rosen, unlike other newer San Diego establishments (think Dave's Hot Chicken and Main Chick, both of which focus solely on the Nashville Hot Chicken trend and entered the local market last year).
"I think there is certainly a demand for better chicken concepts, specifically in other cities," he said, adding that the company has over 50 employees these days and its Little Italy flagship location remains one of its top producing properties. "At The Crack Shack, moms or dads can get a Downward Dog with grilled chicken, someone else can get a fried chicken sandwich. The whole family probably won't say, 'I want hot chicken.' We view ourselves different."

Roaring 20s
Rosen said, while the unit in Las Vegas was shuttered for a few months last year, the other locations, including Encinitas and Costa Mesa, have remained relatively flat in sales. With indoor dining open again in California albeit limited capacity, and travel revving back up in Las Vegas, he expects the company to continue on its growth and expansion trajectory moving forward.
"Someone reminded me that the Spanish Flu of 1918 was followed by the roaring 20s," he said. "I believe Las Vegas, and all of our stores, will be back stronger than ever."