DINING: RANCH 45, LUNA GRILL SAY AFFORDABILITY AND CONVENIENCE ARE THE APPEAL
Family Meal Kits Help Restaurants Survive Pandemic
Thursday, April 22, 2021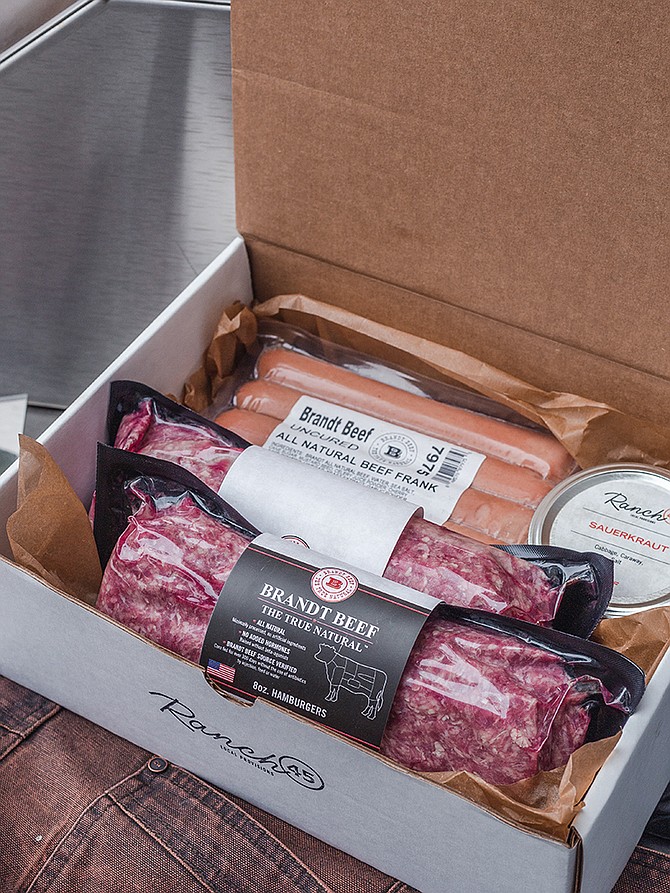 The COVID-19 pandemic has changed the restaurant industry as we known it. With closures and/or indoor dining at a limited capacity the last year, operators have turned to other methods in order to generate interest and revenue.
Two of the most popular programs adopted since the onset of the crisis have been meal kits and family meals, which are uncooked and cooked meals, respectively, that feed multiple people off-premise.
San Diego-based food places like Ranch 45 and Luna Grill, among others, have developed bulk packages of sorts that can either be cooked at home or come fully-cooked and just need reheating. The meal kits and the family meals can usually accommodate families of four to eight members and are meant to be enjoyed in the comfort of their homes.
Various Meal Options
Currently, Ranch 45, a restaurant and butcher shop in Solana Beach, offers steak kits. During the pandemic, it also sold seafood meal kits and holiday meal kits, according to Pam Schwartz, managing partner.
These menu items, she said, have led to a 25% increase in overall business.
"Both our steak kits and family meals have increased (in popularity) during COVID-19, (which) has led us to opening for full dinner service three nights a week," she said. "The family meals were very popular during the first three months of the pandemic and when we were allowed to open for outdoor dining, we had multiple requests to be able to eat at the restaurant for dinner (as a result). These meals have led to a 25% increase in overall business. For holiday meal kits, we saw a 150% increase over last year."
Its Ultimate Grill Box feeds six and sells for $115, she said. It features two 12oz Brandt Ribeye Steaks, two 12oz Brandt NY Strip Steaks, two 8oz Brandt Flat Iron Steaks, a bottle of Olibaja Olive Oil and a box of Maldon Sea Salt. There's the Marinate Your Night Box, said Schwartz, which feeds four and costs $70. That comes with one-pound Brandt flank steak, one-pound Brandt skirt steak, 12oz chimichurri, 12oz Carolina BBQ Sauce and a 4oz coffee chili rub. The BBQ Box feeds eight and cost $75. It offers two packages of Brandt all-natural hot dogs, eight 8oz Brandt hamburger patties, 12oz sauerkraut. And lastly, the Ranch Breakfast Box, which feeds four and cost $35, includes one package Brandt Cowboy bacon, one-pound housemade chorizo and six Eben Hazer eggs.
Patrons can add a Ranch 45 grill kit for $20 as well, said Schwartz, which comes with stainless steel tongs, fork and spatula.
Growth of 25%
Schwartz attests the growth in meal kits to various reasons.
Ranch 45 set the family meals prices at a reasonable cost, made the cooking and reheating instructions simple and offered a la carte menu options that allowed families to customize their orders based on their needs, she said. Moving forward, Schwartz said the company will continue to offer the steak kits and the holiday meals even post-pandemic, among other growth and expansion plans.
"We've recently partnered with (locally-based start-up) In Good Company to prepare chef-driven frozen meals," she said. "And the biggest news is we are expanding our location to include a full butcher shop, USDA certified cutting room and gourmet market. We are hoping to have the expansion completed by November."
Top Five Product
Luna Grill is headquartered in Rancho Penasquitos and has over 50 stores throughout Southern California and the Dallas metro area. It's revenue in 2015 was $27 million with a target growth rate of 25% to 30% per year.
Morgan Rogers, director of marketing, said the company offers a Family Meal for four and another for six. Both options include a choice of protein (chicken kabob, sirloin kabob, gyro meat or veggie kabob) served with grilled veggies, choice of salad, rice, pita and sauce or hummus. The cost to feed a family of four is $42 and $60 for a family of six.
The popularity of these menu items skyrocketed over the course of 2020, jumping to its top five products sold, she said.
As a result of the innovation, the company has had days since last March that have beat out sales from 2019, pre-pandemic.
"When the COVID-19 pandemic hit, we found that there was a need for a Family Meal kit option for those dining with their families at home," she said. "Luna Grill's Family Meals were extremely relevant at the time that they were launched. There was a need for meal kits at home and our teams quickly innovated and launched Family Meals within a month. Additionally, our Family Meals include a ton of food for a reasonable cost. We attest the growth to meeting guest demands at a time when they needed it most and launching an affordable yet delicious product that our guests could feel good about feeding their families."
In the future, Rogers said Luna Grill plans to continue selling its Family Meals for delivery and to-go orders only.