BEVERAGES: SAN DIEGO'S ATHLETIC, TWO ROOTS AND DRINK MONDAY AMONG COS. SPEARHEADING GROWTH
COVID-19 Drives Booming Non-Alcoholic Drink Sales
Thursday, April 22, 2021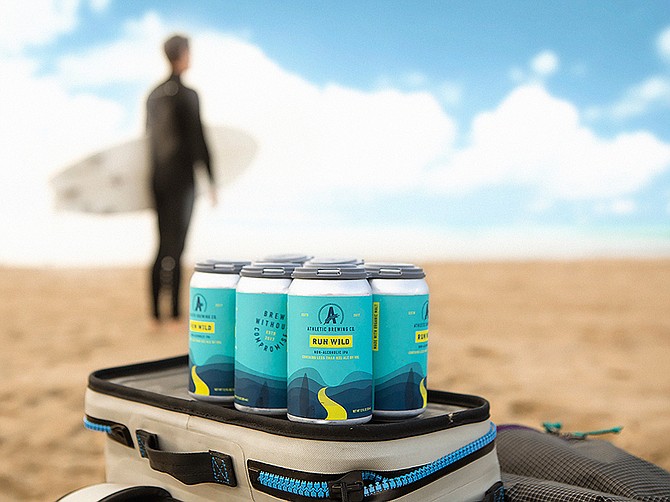 In the early 2000s, Millennials, known as one of the most health-conscious age groups in recent times, sparked a sort of sober revolution. To support that, the number of alcohol drinkers in the world has decreased by nearly 5% since then according to the World Health Organization.
Now, with COVID-19 encouraging healthier habits among Americans, many beverage categories that offer "better options" are experiencing a significant uptick.
One such is the non-alcoholic beverage industry.
Locally, companies like Drink Monday Inc., Athletic Brewing Company and Two Roots Beverage Co., among others, are not only benefitting from the wellness craze – they are credited with significantly driving the growth.
Fastest-Growing Segment
In 2020, Athletic Brewing Company grew over 500% year-over-year for the second year in a row, said Bill Shufelt, co-founder. The brewery represents over 55% of the non-alcoholic craft beer category, he said, with revenue projected to reach $45 million in 2021, according to Forbes Magazine.
"The non-alcoholic craft beer category is the fastest-growing segment of the entire beer industry, up 302% in 2020," said Shufelt about the Miramar-headquartered company with 140 employees. "The industry grew more over the past three years than it did over the past three decades, and this is due to the fact that consumers finally have high-quality non-alcoholic beers available to them. When we started Athletic Brewing in 2017, we were told that consumers weren't asking for non-alcoholic beer and that there was no demand for it. But the truth is that the industry had never delivered a product worth demanding."
When Athletic Brewing Co. opened its other location, a Connecticut brewery and taproom in 2018, Shufelt believed it would take the company at least five years to outgrow its capacity.
In its first year, it delivered over 10,000 barrels, an increase of over 1,000%. In less than two years, the brewery had to expand, he said, adding that opening the San Diego brewery increased its capacity tenfold.
"San Diego has an incredible and reputable craft beer community that we're excited to be a part of – it was California's health-forward and active lifestyle that brought us here to begin with," he said. "We had strong e-commerce data suggesting SoCal had a huge demand for our beers, so it led us to pursue our expansion with our primary production facility in San Diego. It helps that S.D. is the beer capital of the country with a thriving and sophisticated craft beer scene."
The growing demand in non-alcoholic drinks is what has taken Athletic Brewing Co. international; it is now available in Canada and the UK, said Shufelt.
Accelerated Growth
Maikel Von de Mortel, chief marketing and revenue officer of Two Roots Brewing Co., says the coronavirus crisis has definitely accelerated the growth of the zero-alcohol segment, including that of Two Roots. In the last couple of months, the brand has launched in Michigan, Massachusetts and Arizona, he said, adding that its products are in roughly 1,000 doors to date.
"People are looking to become healthier and are more mindful in their consumption, such as looking to reduce calories or remove or completely reduce alcohol from their diet," he said, adding that the Kearny Mesa-company was founded in 2018 and has 40 employees. "As such, the non-alcoholic spirits, wines, mocktails and beers categories have seen phenomenal growth. The non-alc category, according to Business Insider, could reach $6 billion in sales by 2025. Because of our off-premise business, the pandemic has done quite well for us and allowed us to remain on track for our growth trajectory as a whole."
Von de Mortel believes the growth of the non-alcoholic category, and other newer beverage segments, was spawned by the craft beer scene; with San Diego being considered the Craft Beer Capital of America, the innovation of the local craft beer industry has inspired drink makers in other subdivisions to get creative as well, he said.
"San Diego is making strides in the non-alcoholic industry, especially with companies like Two Roots being headquartered locally and it is well on its way to become a leader in the industry," Von de Mortel said. "It's been interesting to see how it has really been spearheaded by a lot of craft beer breweries as a whole. As any creative environment, it has sparked or ignited that creativity toward others as well."
Now, much like Athletic, Two Roots is going international, said Von de Mortel. The company recently begun shipping to South Korea, the U.K. and Australia.
No Hangover
Drink Monday Inc., which launched in 2019 with a zero-alcohol gin, has seen tremendous growth over the past year, said Chris Boyd, CEO. The company made $1.3 million in 2020 and is projecting $5 million sales this year, he said. Inspired by the inaugural product's success, it is also readying to release a non-alcoholic whiskey later this year.
Boyd said the lack of hangover from non-alcoholic beverages is also pushing sales in the category.
"In difficult times, we want to have something familiar and comfortable to enjoy. In our world, this happens at 5 o'clock with a glass of something special to unwind a bit," he said." But, as many of us have experienced firsthand, during these stressful days, one boozy drink too many means a less-than-stellar feeling tomorrow. Non-alcoholic spirits like ours provide the look, feel, and most importantly, taste of your favorite beverage and scratches a vital itch without putting tomorrow at risk. People have been looking for an alternative to their favorite cocktails, and the non-alcoholic category is it."