STARTUPS: CO-SPONSOR TO HELP YOUNG COMPANIES DEVELOP BUSINESS MODELS AROUND 5G
Incubator EvoNexus Partners with Verizon Communications
Tuesday, April 20, 2021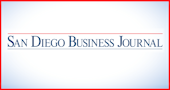 San Diego startup incubator EvoNexus has secured Verizon Communications as the co-sponsor of its program for young companies to develop business models around the fifth-generation wireless data standard known as 5G.
The cellular giant is joining EvoNexus' 5G and Artificial Intelligence Accelerator, along with first corporate backer Qualcomm, San Diego's largest public company and the inventor of 5G technology. Financial details of the arrangement were not disclosed.
The nonprofit's mission is to bring together startups and organizations working to explore the boundaries of 5G network technology and rethink more possibilities through new applications and hardware.
"Verizon is at the forefront of 5G innovation and we are excited about this partnership because we know that 5G will be a key platform for 21st-century innovation. We recognize with technology this transformative landscape for consumers, businesses, and society can be completely reimagined," said Nicki Palmer, chief product development officer at Verizon. 
"We are enthusiastic about working with EvoNexus to further accelerate innovation in IoT, mobile edge computing, and other key 5G use cases through early-stage companies entering this incubation program, he added. 
Partnering with Verizon
Launched in July last year, EvoNexus's 5G & AI Accelerator has admitted a handful of companies, including Astrome, an early stage venture addressing millimeter wave 5G backhaul.
EvoNexus's CEO and co-founder Rory Moore said the latest sponsorship will provide startups the opportunity to work with its 5G Labs to test products and engage with Verizon Ventures, the wireless operator's corporate venture capital arm.
"No one knows yet what the "killer use case" for 5G will be," he said. "We do know 5G will provide early-stage companies an opportunity to develop products and services that are significantly enhanced. The technology will be as transformational as LTE was for Uber."
EvoNexus provides startups with up to two years of free office space, mentors and access to a network of investors. Over the past decade, about 230 startups have participated.
"In the short ten-year history of EvoNexus, the organization has launched new companies that have significantly impacted genomics, healthcare, security, communications, and consumer products," said Moore. "As is proven over and over again, startups are the catalyst for change. They do not avoid risk, they view it as their protection and advantage over their more risk-averse competition.
Returning Summer 2021
EvoNexus currently has locations in University City in San Diego and San Mateo in the Bay Area. In January, EvoNexus closed an incubator location in Irvine, which was mostly unused during COVID-19 restrictions.
While EvoNexus has been primarily in-person based, it began offering a virtual program last June. Roughly 11 companies have signed up for the virtual option.
"This summer, we have admitted 11 FinTech ventures throughout COVID that are very high quality ventures, all raise money and we're managing, managing them virtually. They will have a choice to work under one roof, most likely by this summer," said Moore.
EvoNexus is backed primarily by corporate sponsors. If selected for EvoNexus, , the only requirement is to provide a dilutable 1 percent equity stake to the nonprofit.
Qualcomm $200M Investment
Last year, Qualcomm Ventures launched the 5G Global Ecosystem Fund to invest up to $200 million in companies developing 5G products.
Startups selected for the EvoNexus 5G program are matched with a mentor from Qualcomm or EvoNexus' network of industry experts.
"5G is the foundation that will create a large number of new use cases and open a new realm of possibilities for 5G expansion across mobile broadband, compute, XR, industrial IoT, 5G private networks, and fixed wireless access," said Quinn Li, global head at Qualcomm Ventures.