MANUFACTURING: INCREASED COMPUTER USE MEANS GROWTH FOR GUNNAR OPTIKS
Co. Captures Piece of Blue Light Market
Tuesday, April 20, 2021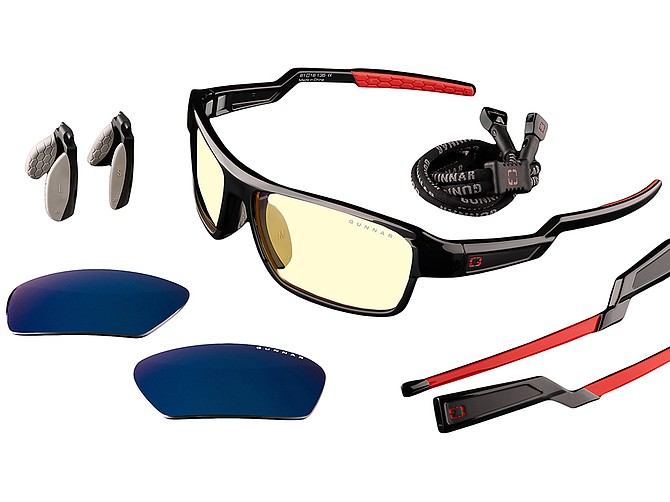 With the majority of Americans working from home or virtually learning the past year, the blue light glasses category has seen a significant boost as a result.
Gunnar Optiks, a Carlsbad-based company that focuses on protecting the eyes using a patented lens technology, is claiming a large piece of the blue light glasses pie.
With 25 employees, Gunnar Optiks offers prescription and non-RX glasses and sunglasses as well as blue light technology and additional focusing power, among other coatings, that can help with dry eyes and eye muscle fatigue. Gunnar Optiks glasses range in price between $60 and $120 each, according to the company, and are made for both adults and children.
Founded in 2005, Gunnar Optiks saw significant growth in 2020 over 2019, as per Joe Croft, co-founder along with husband-and-wife duo Matt Michelsen and Jennifer Michelsen; Croft is a former GM of Oakley Eyewear. Projections of growth for Gunnar Optiks over the next five years are "very healthy," according to the multi-million-dollar company, partially due to consumers becoming more educated on the use and benefits of blue light glasses the last year.
"Gunnar helps gamers and computer users around the globe work and play at their best," said Croft. "Since the beginning, Gunnar has been committed to performance and protection. I am elated that we built an impressive company in San Diego."
"Based on recent data provided by a key online retainer in addition to what we've estimated, I would say that the category as a whole is actually worth well over $1 billion," added RJ Snyder, director of digital and trade marketing, stating that Gunnar was founded after Matt Michelsen was diagnosed with Computer Vision Syndrome following a career on Wall Street that kept him in front of computer screens endless hours at a time.
"We can't share revenue numbers unfortunately, but we can tell you that our business grew over 60% last year and projections for the next five years are very healthy," he continued. "COVID definitely helped educate consumers last year and with the launch of our Gunnar Youth brand line of glasses, we were able to help parents protect the eyes of their kids, too."
What is Blue Light?
Man-made sources of blue light include fluorescent and LED lighting, flat-screen televisions and, most notably, display screens of computers, tablets, smartphones and other digital devices. Research shows blue light may increase the risk of macular degeneration, which is a disease of the retina. Research also shows blue light exposure may lead to age-related macular degeneration, or AMD.
Blue light glasses claim to filter out blue light emitted from digital screens using specific materials and/or surface coatings on the lenses that block a portion of the light, thus, decreasing exposure to it.
While data on the size of the blue light glasses industry is scant, experts believe that it will continue to dramatically surge moving forward. According to a report released early last year by MarketWatch, a business news website, the industry was valued at $22 million in 2020 and is expected to reach $38 million by 2026. However, those findings were released before COVID-19.
How Gunnar's Technology Works
One of the unique things about Gunnar Optiks is that its combination patent technology targets multiple eye health concerns, said Snyder.
One is the blue light filtration, which filters 65% of blue light emitted from digital screens. But, in addition to that, adult lenses also have what the company calls "focusing power", he said, which gives eyes a boost that allows the eye muscles not to strain. This helps prevent the likes of headaches and blurry vision, said Snyder.
The third aspect is the lens' curvature design, which pairs with the curvature of the frames and helps minimize air currents that dry out eyes, he added.
"The unique thing about Gunnar Optiks is that we address all the common short and long-term symptoms of digital eye strain and exposure to blue light," said Snyder. "Right now, blue light is a buzz word. But it does impact things like your sleep – that is an area we have seen a lot of interest in. This gives us the opportunity to educate on the other negative side effects associated with long-term computer use and how blue light can help."
What's Next?
Gunnar Optiks sources raw materials for lenses and frames from overseas. For its non-prescription products, it handles quality control, packaging and shipping from the Carlsbad headquarters. For the prescription business, Gunnar works with a stateside company.
In 2018, Gunnar Optiks accepted a $750,000 loan from Lori Greiner on ABC's Shark Tank in exchange for 5% equity on a $15 million valuation. Now, with the increased attention on the blue light category, the company is hoping to continue to take advantage of the booming trend to capture a larger share of the market.