BIOTECH: ANNUAL REVENUE UP $451 MILLION
Dexcom Sees Growth Ahead
Sunday, April 18, 2021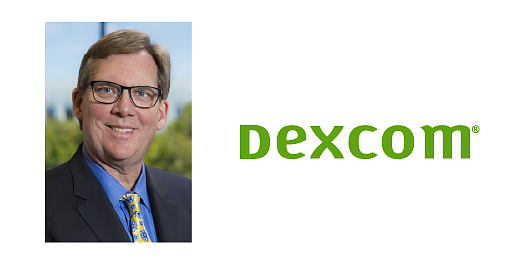 Dexcom Inc. expects to crack the $2 billion mark when it is time to report revenue for 2021. The maker of medical devices for people with diabetes has forecasted revenue in the range of $2.21 billion to $2.31 billion.
The forecast follows a remarkable 2020, when revenue grew $451 million from $1.48 billion to $1.93 billion. Net income advanced $392.5 million from $101.1 million in 2019 to $493.6 million in 2020.
Put another way, the bottom line almost quadrupled.
The company also set a record for adding new patients in 2020. During the fourth quarter, it attained its highest quarterly gross margin — 70.2% — in the past five years.
Dexcom helps people keep track of their diabetes by producing and distributing continuous glucose monitoring systems, or CGM systems. Such technology lets a person monitor blood sugar without sticking a finger. Instead, a patient wears a monitor containing a probe that slips beneath the skin. Data from the sensor is sent wirelessly to a smartphone or other connected device.
Late April Announcement
Dexcom's first quarter ended on March 31. The company will offer an update on whether it is continuing its momentum when it announces first quarter financial results on April 29.
Dexcom plans to spend 2021 getting more patients for its current CGM system, called G6, and preparing to launch a next-generation system, called G7.
"We are making excellent progress on our strategic objectives as we press forward to bring Dexcom CGM to the many people around the world who stand to benefit from better glycemic control," said Kevin Sayer, Dexcom's chairman, president and CEO.
"Our enhanced capacity puts us in a position to aggressively pursue our growth initiatives," he said.
Dexcom has chosen Malaysia for its third manufacturing site and its first factory outside the United States. The site will be key to scaling its capacity to produce G7, Sayer said.
Product Launch in Europe Seen
In its annual earnings announcement on Feb. 11, the corporation also said it planned to advance clinical trial and regulatory submissions. Dexcom expects to launch G7 during the second half of the year. The business completed a clinical trial for G7 in 2020 and was happy with the results, Sayer said.
Dexcom executive Jereme Sylvain discussed the new product on March 1 at the Raymond James Institutional Investors Conference.
"I think it's safe to say we've set the bar pretty high with G6," Sylvain said. "And I think the expectation is G7 will be at least that of G6, if not better. … Expect to see us in Europe in a reasonably short timeframe."
One of the selling points for G7 is that the on-body wearable component is 60% smaller than its G6 counterpart.
Dexcom has also been expanding its sales force and demonstrating the value proposition for its products in new markets. It has put more resources into direct-to-consumer advertising, including a Super Bowl ad featuring musician and actor Nick Jonas.
The company announced on March 23 that it promoted Sylvain to chief financial officer. Previous CFO Quentin Blackford has been named chief operating officer.
Dexcom has competition in its market. Abbott Laboratories (NYSE: ABT) also produces CGM systems.
Expanding the Market
Margaret Kaczor, an analyst with William Blair & Co., said in a March research note that she believes pricing and competitive concerns regarding Dexcom "are overdone." She is forecasting a compound annual growth rate of 24% between 2020 and 2022. Dexcom's guidance could be overly conservative, she said in a February note.
Kaczor said she expects near-term growth in products other than G7. In addition, Dexcom's recently announced venture capital arm could expand its total addressable market.
"This is shaping up to be another exciting year for the company," Sayer told analysts in February.
In the fourth quarter of 2020, Dexcom recorded net income of $355.2 million and revenue of $568.9 million, significantly higher than its net income of $92.7 million and revenue of $462.8 million in the fourth quarter of 2019.
Dexcom had $817.6 million in cash and cash equivalents as of Dec. 31, 2020. The figure is $371.4 million higher than the $446.2 million of cash the company had at the same time on Dec. 31, 2019.