BIOTECH: FAST, SERIAL COVID-19 TESTING CAN HELP REOPENING EFFORT
BD Rapid Antigen Test Shows Path Forward
Sunday, April 18, 2021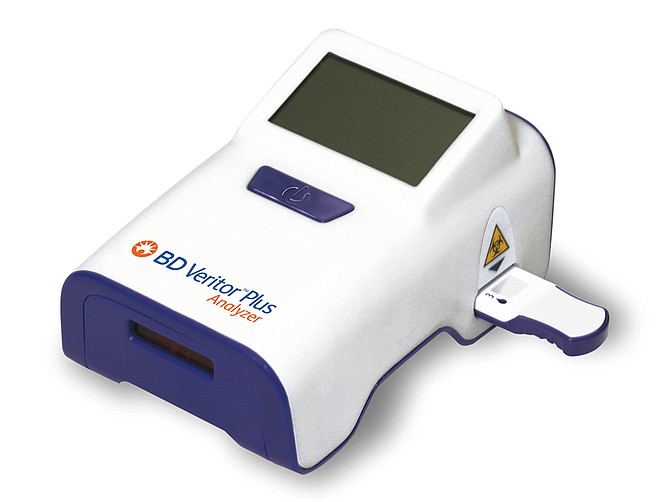 As California moves away from the color-tiered system of restrictions in June and more COVID-19 vaccines end up in arms, businesses, event venues, and schools are looking to rapid testing as a solution for screening people frequently and reopening safely.
Becton, Dickinson and Company (NYSE: BDX), a global medical technology company also known as BD, has developed the BD Veritor System for Rapid Detection of SARS‑CoV‑2 which can provide results in as little as 15 minutes.
Antigen tests such as BD's detect proteins of the infecting virus, such as SARS-CoV-2, the virus that causes the novel coronavirus.
In a clinical study, the test reported with 84% sensitivity which illustrates true positives and 100% sensitivity which illustrates true negatives, said Kevin Kelly, senior vice president and general manager of BD's point-of-care business. The system can also detect the new variants of SARS-CoV-2 which were first seen in the United Kingdom, South Africa and Brazil, Kelly said.
The New Jersey-based public company has approximately 4,000 employees working in San Diego across four business units out of its more than 70,000 global workforces. At the local offices, BD conducts research and manufacturing related to its COVID-19 rapid test.

Visual Results
The BD Veritor Plus System is a handheld device that produces visual results indicating a positive or negative COVID-19 infection, unlike some other tests which may show a simple line or two on a test strip like an old-school pregnancy test.
BD recently partnered with ImageMover, a software platform that automates medical data collection and management, to offer an accompanying mobile app that enables cloud sharing of test results.
Kelly explained that this streamlined approach to reporting also offers time saving possibilities for test administrators because organizations are required to report COVID-19 test results to public health authorities.
Over time, Kelly said the types of organizations using its rapid tests has evolved from more traditional healthcare settings and nursing homes to a broader range of groups.
"What we're seeing now, particularly as the world's trying to get back to normal if you will, there is a transition now into everyday settings," Kelly said. "So, I've mentioned schools earlier, obviously, businesses, sporting teams, those types of environments where testing will be an important part of the arsenal to make sure that those environments can open up again."
Screening Testing
In March, the U.S. Food and Drug Administration (FDA) outlined the different uses of tests for diagnostic and screening purposes when establishing a testing program. While diagnostic testing is used for a person who has signs, symptoms or possible exposure to infection, screening testing looks for individual infections in a group setting.
According to the FDA, "screening involves testing asymptomatic individuals who do not have known or suspected exposure to COVID-19 in order to make individual decisions based on the test results." The FDA has approved some tests for SARS-CoV-2 screening purposes, including the BD Veritor Plus System, which received Emergency Use Authorization (EUA) on April 1.
By implementing serial screening at schools or businesses, Kelly said it adds another layer of accuracy as repetitive tests are done over an extended period of time.
"Every say two to three days you would repeat the test, and that would help you identify, to make sure that people coming into your office or into your school — have you identified whether they're positive or negative? Then, you can take the appropriate action which would minimize the chance of any additional spreads," Kelly said.
Moving forward, BD is actively working on developing an at-home COVID-19 testing platform in collaboration with Scanwell Health, a leader in smartphone-enabled at-home medical tests.