TWO CONTRACTORS GET WORK ON LCAC VESSELS BASED AT CAMP PENDLETON
Walashek, Epsilon Maintain Landing Craft
Wednesday, April 14, 2021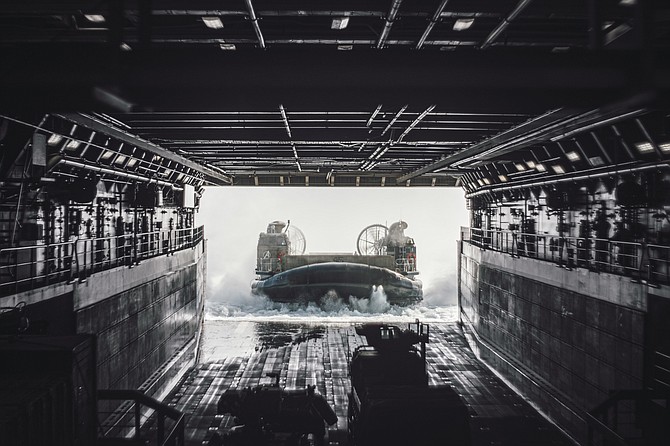 The U.S. Navy tapped two small businesses from San Diego to provide services for its fleet of LCAC landing craft.
The Navy exercised options to contracts previously awarded to Walashek Industrial & Marine Inc. and Epsilon Systems Solutions. The contract modifications have a combined ceiling of $8.37 million. It is unclear whether the government will fund the full value of the indefinite delivery, indefinite quantity contracts.
The deals cover repairs, maintenance, modernization and retirement services for LCACs homeported at Marine Corps Base Camp Pendleton.
LCAC stands for Landing Craft Air Cushion. Work is expected to be completed by April 2022. The Southwest Regional Maintenance Center of San Diego awarded the work, announced on March 26.
Cubic to Develop Navy Training in Orlando
Cubic Corp. (NYSE:CUB) announced on March 22 that its Cubic Mission and Performance Solutions (CMPS) business division received the U.S. Navy's Sailor 2025 Ready, Relevant Learning (RRL) Fiscal Year 2021 Content Conversion contract. The indefinite delivery, indefinite quantity contract could be worth as much as $92.3 million over its four-year ordering period. Work will be performed in Orlando, Florida and is expected to be completed in early 2025.
Under the deal, Cubic will deliver the third wave of content conversion under the RRL pillar of Sailor 2025 (S2025). This includes the design, development and delivery of modernized training content, including courseware training products for the Navy ratings Fire Control Technician, Master at Arms, Aviation Structural Mechanic, Electronics Technician Navigation, Submarines, Mineman, Information Systems Technician and Aviation Machinist's Mate. The content will be delivered to sailors over the course of their career-long learning continuum.
"We are thrilled to continue expanding our role in supporting the U.S. Navy as it enhances training for sailors to meet evolving and dynamic war-fighting requirements," said Mike Knowles, president of Cubic Mission and Performance Solutions. "Our maritime training expertise and years of work with the Navy allow us to deliver cutting-edge solutions at the point-of-need to accelerate learning and training proficiency."
Cubic will utilize innovative instructional systems design, systems engineering and training assessment approaches in conjunction with new technologies to support ratings-accession training. This will simultaneously support the S2025 overarching goal of improving sailors' transfer of training to the operational work environment.
The Navy's S2025 program is designed to improve personnel management and training systems to effectively recruit, develop, manage, reward and retain future forces.
Citadel Defense Receives $5M Contract
San Diego-based Citadel Defense reported that it received a follow-on urgent contract award from the U.S. Department of Defense to protect servicemen and servicewomen from small drone threats. The deal is valued at $5 million.
"Our team is honored to support the military's efforts by delivering operator-centric and mission-proven CUAS solutions to the front lines," said Christopher Williams, CEO of Citadel Defense. The abbreviation stands for Counter Unmanned Aerial Systems. "Titan gives U.S. troops and allies an advantage over non-state actors using drones as a weapon."
Senior Pentagon leaders have called small drones the greatest threat since IEDs [radio-controlled roadside bombs] on the battlefield. Small drones have proliferated and their use is rapidly changing the security environment. Adversaries have access to affordable and highly capable drone platforms that are easily adapted and weaponized to conduct surveillance and targeting against U.S. forces.
Titan applies artificial intelligence, machine learning, and low-collateral electronic countermeasures that blind the drone pilot from collecting intelligence and prevent the drone from penetrating protected airspace. With the click of a button, Titan generates a post mission analysis report that highlights threat activity patterns. This analysis equips operators and their command leadership with insights that help chart a course of action for each mission.
According to the contractor, members of the military in live threat environments value Titan as a critical part of their mission based on its effectiveness, ease of use, and interoperability with other command and control interfaces. Titan's low cost of support and sustainment, upgradability and autonomy create efficiencies necessary to improve military and government mission outcomes.
"We constantly improve the Titan platform to equip operators with capabilities that address and adapt to the rapidly proliferating threat of small UAS across any region of the world," said Sean Troyer, director of business development at Citadel Defense and a former US SOCOM (Special Operations Command) member.
Citadel Defense said it will accelerate delivery of Titan systems to address urgent operational needs to meet an aggressive deployment schedule for U.S. troops.