NONPROFIT: BIGGEST DISTRIBUTION EVER SUPPORTS 3,038
Challenged Athletes Foundation Grants $5.1 Million This Year
Wednesday, April 14, 2021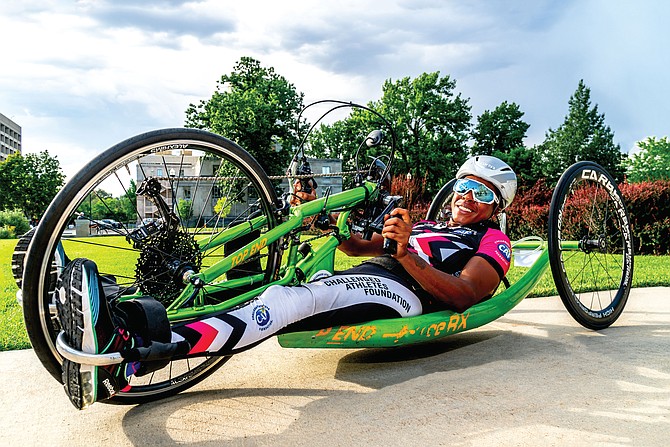 Despite the COVID-19 pandemic, Challenged Athletes Foundation, a San Diego-based organization that helps physically challenged athletes get back into sports, has had its biggest grant distribution year to date.
Founded in 1993, Challenged Athletes Foundation fully funded all qualified 2021 grant applications for a total of 3,038 grants. The funds, in the amount of $5.1 million, were distributed in 49 states and 52 countries and across 94 sports. In addition, Challenged Athletes Foundation supported over 400 grant recipients who chose to defer their 2020 grants to 2021.
The grantees, which includes amputees and paraplegic, received anywhere between $500 and $5,000 each, according to Jeffrey Essakow, co-founder, president and chairman. The funds go directly to the athlete, he said, who use it for the purchase of adaptive sports equipment and/or physical wellness classes and/or training that are not covered by medical insurance.
Facilitated through partnerships with GRIT Freedom Chairs and prosthetic company Össur, grants can be used for the likes of running prosthetics, handcycles and sport wheelchairs, as well as at-home training equipment and training and competition travel expenses.
The funds come from generous donors and corporate sponsors like Nike and Toyota, Essakow added.
Critical Support
"Many of these grants provide critical support for coping with the impact of the pandemic," said Essakow, who founded the organization with partners Bob Babbit and Rick Kozlowski. "They get to use the equipment for life, to get out, especially during the pandemic, and participate in something physical that can help them deal with the negative effects of the crisis. We give them that ability to stay active and stay healthy."
"Our belief in the power of sport to strengthen from the inside out is deeper than ever," added Virginia Tinley, chief executive director. "Thanks to the generosity of our supporters, many of these grants provide critical support for coping with the impact of the pandemic."
Headquartered in Mira Mesa and with an annual operating budget of $9.8 million, Challenged Athletes Foundation was founded when a friend of Essakow's, Jim MacLaren, lost a leg due to a motorbike accident in 1985. In 1992, in order to get active again, he decided to do an Ironman Triathlon in Hawaii, finishing in record time, recalls Essakow. The following year, while participating in his second Ironman event, this time in Orange County, MacLaren faced another accident that would leave him a quadriplegic or paralyzed from the neck down.
That same year, Essakow and his partners founded Challenged Athletes Foundation.
The inaugural event, a half Ironman at the La Jolla Cove, included 22 athletes and a handful of corporate sponsors, he said. The race raised $49,000 that was used to gift MacLaren an adaptive vehicle as well as $24,000 for medical expenses.
$118 Million
The last 26 years, Challenged Athletes Foundation has raised over $134 million, said Essakow, which has been distributed to over 35,000 challenged athletes worldwide. He credits this fete to the foundation's loyal donors and corporate sponsors, as well as the Challenged Athletes Foundation's dedicated team. The latter immediately and effectively pivoted during the economic downturn, he said, connecting with both sponsors and followers via social media and launching a new digital program that features interviews with challenged athletes every Tuesday and Thursday on the organization's website.
"Today, we have become the leaders in the industry in supporting challenged athletes and in our endeavor to help them get back in the game of life through sports," he said. In fact, "Fifty percent of participants from the United States that partake in the Paralympic Games are supported by us."
There is an application process to qualify for a grant from the Challenged Athletes Foundation, said Essakow, which requires applicants demonstrate they are indeed a challenged athlete, don't have the means to pay for equipment or classes and will use the money for sports or for the purchase of sports-related gear.
Next Steps
In the near future, Essakow is excited to continue to grow Challenged Athletes Foundation's online presence and restart in-person events. He also plans to expand the organization's impact and fundraising efforts in key regions, including Southern and Northern California, the greater New York area and Idaho.