BIOTECH: ANTIBODY-CENTRIC COMPANY GROWS
Sorrento Therapeutics to Acquire ACEA for $38M in Stock
Tuesday, April 13, 2021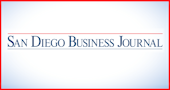 Sorrento Therapeutics (NASDAQ: SRNE) will acquire ACEA Therapeutics in a deal that offers ACEA's equity holders approximately $38 million in common stock, the company announced on April 5.
The deal between the two San Diego life science companies is expected to close in the second quarter of 2021, subject to customary closing conditions.
Founded in 1989, Sorrento Therapeutics is a clinical stage, antibody-centric, biopharmaceutical company that develops new therapies to treat cancers and COVID-19. The Sorrento Valley-headquartered company went public in 2013 and has more than 500 employees.
With the acquisition of ACEA Therapeutics — a late-stage oncology company based in La Jolla — Sorrento's chairman, president and CEO, Henry Ji, is optimistic about what this means for the biotech company going forward.
"The ACEA acquisition will bring us a step closer to developing into a major biopharmaceutical company and we look forward to welcoming the ACEA team into the Sorrento family," stated Ji.
Financials
Sorrento Therapeutics came off a strong year in 2020 with a total revenue of about $39.99 million, which was an increase from the previous year's total revenue of $31.43 million, according to the company's 10-K filing.
Sorrento's core assets include fully human antibodies (G-MAB library), clinical stage immuno-cellular therapies (CAR-T, DAR-T), antibody-drug conjugates (ADCs) and clinical stage oncolytic virus (Seprehvir). The company is also developing an array of diagnostic test solutions, potential antiviral therapies and vaccines against coronaviruses.
In November, Sorrento was awarded a contract with the Defense Advanced Research Projects Agency (DARPA) to and co-funded by the Joint Program Executive Office for Chemical, Biological, Radiological and Nuclear Defense, to develop a rapid countermeasure to COVID19 using gene-encoded neutralizing antibodies, according to the company's 10-K filing.
A sizable amount of its 2020 revenue, about $26 million, came from product sales of ZTlido, an FDA approved product for relief of pain associated with a nerve condition called Postherpetic neuralgia (PHN), according to the annual report.
Sorrento's pipeline encompasses non-opioid pain management, COVID-19 therapies and immuno-oncology. According to Market Watch, Sorrento Therapeutics has a market capitalization of about $2.21 billion.
Prior to the announcement of the merger agreement, Sorrento Therapeutics listed 2,567,456 shares of its common stock on March 19 for sale, according to the company's 8-K filing.
Agreement
Sorrento Therapeutics and ACEA previously announced on Oct. 16, 2020 that the two companies entered into a letter of intent which outlined the terms and conditions for the acquisition.
"The synergy will potentially enable Sorrento to develop many life-saving, combinational drugs for difficult-to-treat human illness in oncology, autoimmune and infectious diseases," according to the recent press release.
The acquisition will include ACEA Therapeutics late clinical stage drug Abivertinib, clinical stage candidate AC0058, preclinical stage candidate AC0939, and ACEA's extensive proprietary library of small molecules (over 1,000,000 compounds). These have the potential to be applied to a variety of diseases such as non-small cell lung cancer (NSCLC), B cell lymphomas, systemic lupus, rheumatoid arthritis, multiple sclerosis and viral infections.
Sorrento Therapeutics will also gain ACEA's state of the art CGMP manufacturing facility in Quzhou, China which is located on a 23-acre campus with five buildings.
In addition to the stocks offered to ACEA equity holders, the deal is subject to Sorrento meeting certain clinical and sales milestones, according to the announcement.
Sorrento Therapeutics will pay ACEA equity holders up to $450 million in additional payments subject to certain regulatory approvals and net sales targets and five to ten percent of annual net sales thereof specified royalty-bearing products.