BIOTECH: 2021 COULD BE TURNING POINT AS GRAIL MATTER IS DECIDED
Illumina on Track for a $4 Billion Year
Sunday, April 11, 2021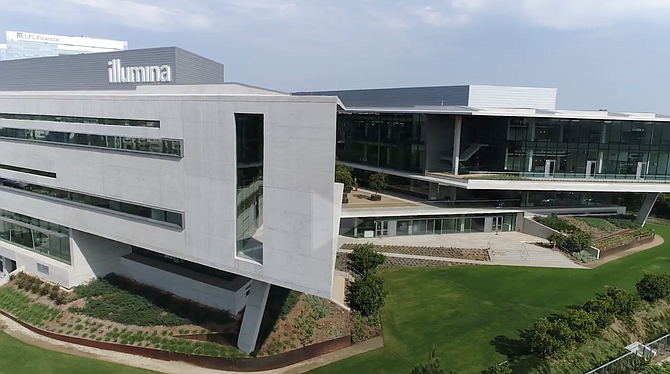 Illumina Inc. (Nasdaq: ILMN) expects a $4 billion year in 2021.
The gene sequencing specialist increased its financial guidance on April 5, saying it expects year-over-year revenue growth of 25% to 28% from the $3.24 billion that it brought in during fiscal 2020. Under such a scenario, revenue would be in the range of $4.05 billion to $4.15 billion.
In the early April announcement, the company said it expects to report first quarter revenue of approximately $1.09 billion, compared to $859 million in the first quarter of last year, though the number could be subject to adjustment. Illumina plans to release final revenue figures on April 27.
Illumina is a leader in DNA sequencing and array-based technologies.
As it grows its core business, Illumina also wants to grow into an adjacent market with its $8 billion acquisition of Grail Inc., a Menlo Park-based company which plans to bring a cancer test to market. Grail says its blood test detects more than 50 types of cancer, particularly in its very early stages when patients do not show symptoms and the disease is more treatable.
Illumina reiterated its acquisition plan on March 30 after a regulatory challenge came to the surface. The U.S. Federal Trade Commission announced that day that it had filed an administrative complaint and it plans to file a lawsuit to stop the acquisition. In its complaint, the government alleges that the acquisition would decrease competition.
Stock Price Climbs
Shares of Illumina gained ground on the advance news of first quarter financial results. They closed at $384.54, prior to the announcement. On April 6, they hit a high of $426.01 before closing at $414.84. Over the last 52 weeks, shares of Illumina have traded in the range of $260.42 to $555.77.
"Our core business is exceptionally strong and growing ahead of our expectations," said Francis deSouza, the company's president and CEO. "… We are seeing broad-based acceleration across our core clinical and research applications as more patients, physicians and researchers than ever access the benefits of next generation sequencing. In addition, we are experiencing increased demand for COVID surveillance globally due to the critical role that Illumina's next generation sequencing technology plays in the fight against this pandemic."
Demand for COVID surveillance was a contributor but not a primary driver for the growth, a spokeswoman said.
Dan Leonard, an analyst with Wells Fargo Securities, said analysts had expected Illumina to beat estimates and raise its guidance — but not to the extent it reported on April 5. Leonard said he expected revenue growth of approximately 6% versus the 26% reported by the company. While he expected 8% growth in sequencing consumables, Illumina reported 25% growth.
Illumina said that most of its customers are now at or above pre-COVID activity levels. COVID-19 surveillance revenue for consumables was approximately $20 million during the quarter. Revenue from sequencing instruments grew by approximately 120%.
In its fiscal year ending Jan. 3, Illumina reported net income of $656 million on total revenue of $3.24 billion. Both figures showed a decline from 2019, when Illumina reported net income of $1.002 billion on revenue of $3.54 billion. Shipments slowed in 2020 because customers had been impacted by COVID, the company said in a securities filing.
The corporation reported $1.81 billion in cash as of Jan. 3, down from $2.04 billion on Dec. 29, 2019.
A $75 Billion Opportunity
Illumina plans to spend $8 billion to acquire Grail in a transaction consisting of $3.5 billion in cash and $4.5 billion in shares of Illumina common stock. Illumina already owns 14.5% of Grail.
The market for next generation sequencing oncology is expected to grow to $75 billion by 2035.
"We feel that it's a massive opportunity," said Dr. Phil Febbo, chief medical officer for Illumina. "But it's an opportunity that results in massive cost efficiencies for health care systems."
The Federal Trade Commission said it is taking its action because the proposed acquisition "will diminish innovation in the U.S. market for MCED [multi cancer early detection] tests." "The acquisition would substantially lessen competition in the market for the research, development and commercialization of MCED tests in the United States and cause harm to American consumers," the agency alleges in its complaint.
Febbo said that the acquisition would be pro-competitive, and that Illumina's investment would foster other investment.
"We do feel precedent is on our side," Febbo said. "… We're going to fight for this."
In other news, Illumina said that board chairman Jay Flatley will step down from the board at its annual meeting on May 26. Flatley was CEO from 1999 to mid-2016, and has kept his seat on the board since then.
Illumina says a focus on innovation has established the company as the global leader in DNA sequencing and array-based technologies. It serves customers in the research, clinical and applied markets.