LIFE SCIENCE: CO. COLLABORATING WITH EMORY
Exagen Studies COVID Effects
Sunday, April 11, 2021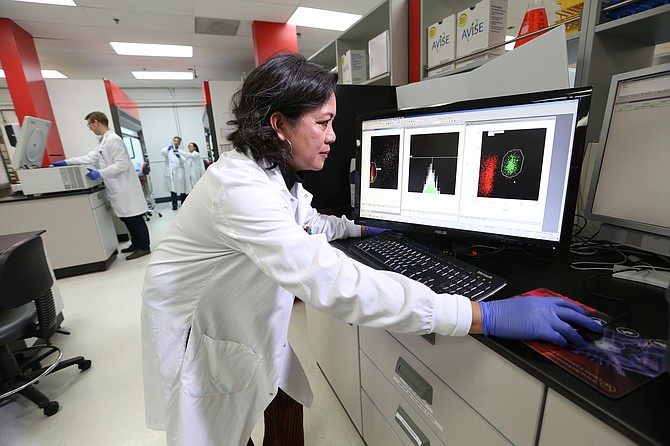 Exagen Inc. (Nasdaq: XGN), a commercial-stage life science company, is joining forces with Emory University to conduct a new study on the long-term effects of COVID-19 infection in the development of autoimmune diseases. The public company announced the collaboration with Emory — one of the leading research institutes in the study of autoimmune diseases — on March 29.
The longitudinal study will employ Exagen's exclusive technology and expertise in the field of autoimmune diseases to look for the emergence of biomarkers that are indicators of the development of lupus, rheumatoid arthritis and other autoimmune diseases.
In November, the company also announced a collaborative study with the Bringham and Women's Hospital in Boston, Mass. to examine the incidence and risk factors for the onset of rheumatic autoimmune diseases in people who recovered from COVID-19. Both studies have started and engagement between both teams is continuous, said a spokeswoman for Exagen.
"The central question these studies are trying to answer is whether COVID patients are at more risk of developing autoimmune disease after infection," said Dr. Debra Zack, chief medical officer at Exagen.
Research Study
Exagen was founded in 2002 with a focus on developing diagnostic, prognostic and monitoring tests in the area of rheumatology and autoimmune diseases such as lupus and rheumatoid arthritis. The life science company processes blood samples from across the country at its central laboratory and headquarters in Vista through its array of diagnostic tests.
Exagen's AVISE testing portfolio, which offers lupus tests for lupus treatments, and other autoimmune disease testing solutions will be used to evaluate the patients in the study with Emory University.
"Post COVID, new production of many autoantibodies have been seen," said Dr. Zack. "The researchers are looking to see if the production of these autoantibodies persists and whether signs and symptoms of autoimmune disease follow recovery from infection."
In addition to these studies which will offer insight into patients recovering from coronavirus, Exagen has continued to provide critical testing solutions for its primary market of rheumatologists and their patients.
Ron Rocca, president and CEO of Exagen said that "COVID does not cure lupus," and while many people may have delayed care due to the pandemic, he said his team is focused on providing testing solutions that allow patients to quickly get diagnosed and treated.
"Lupus does not wait in the parking lot to get diagnosed before it does what it does," Rocca said of the inflammatory disease in which the body's immune system attacks its own organs and tissues.
Growing Impact
When patients present symptoms associated with lupus such as fatigue, hair loss, rashes, joint pain and brain fog, it's a challenge for doctors to clinically diagnose this condition. Rocca explained the critical nature of diagnosing autoimmune diseases fast and how their tests offer physicians an added layer of clarity.

"We always say behind every tube of blood that comes here, there's a scared patient waiting for a result that we need to take care of that patient as best we can," Rocca said.
Back in Sept. 2019, Exagen went public and in that time, Rocca said the extra capital from the IPO has allowed the company develop its pipeline further.
For instance, Exagen is working with Ohio State University to develop a Fibromyalgia asset and to hone in on research in the autoimmune space.
The company reported $42.0 million in total revenue for 2020 which was a 4% increase from the previous year. At the end of 2020, Exagen reported 181 employees across the company and Rocca said that the company expects to grow by 63 employees in 2021.