CO. GROWS STRONGER DESPITE COVID-19 HEADWINDS
Wrapify Expands With New SaaS Offering
Thursday, April 8, 2021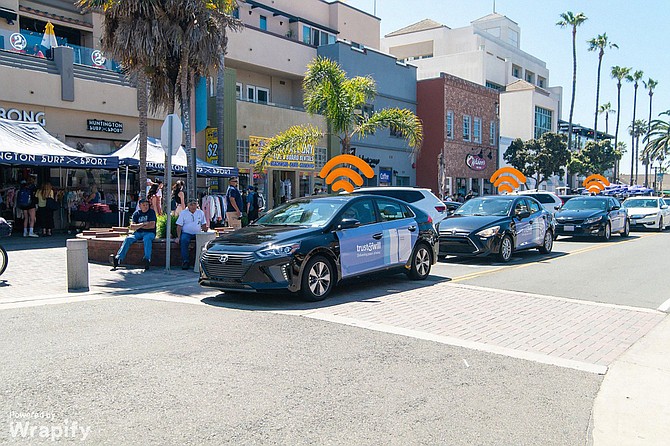 San Diego-based Wrapify, an advertising startup helping some of the nation's largest brands, is seeing significant growth this year after overcoming severe tailwinds caused by the coronavirus pandemic.
"We were heavily impacted in 2020, but we navigated through the pandemic and are back to pre-pandemic level revenue," said James Heller, founder and CEO at Wrapify. "We're close to hitting the biggest quarter in the company's history. We have product-market-fit and are now serving the same brands over and over again."
Founded in 2015, Heller launched the company to leverage the "sharing economy" business model popularized by ride-sharing giants Uber and Lyft. Taking a different approach, Wrapify is a leading rideshare and gig-delivery advertising platform. 
Its mission is to empower brands by combining its out-of-home (OOH) and omnichannel ad-tech platform with the gig economy.
Over 300,000 Users on Platform
In particular, Wrapify pays drivers to display advertising on their own cars in advertising, and to drive their car around town —  serving as a real-time billboard for brands.
Partnering with brands, the company's platform can measure the ad performance from people who see its ads on the road.
Over the last six years, the company has built a network with more than 300,000 drivers using its platform. The company operates in all 50 U.S. markets and has worked with over 200 brands including Oracle, Zoom, DoorDash, and T-Mobile, to name a few.
Most recently, the company partnered with San Diego-based Trust & Will, a company modernizing the trust and estate planning industry, for its latest campaign launch. 
"We love that we're able to work with Wrapify on a unique marketing campaign for our company," said Cody Barbo, co-founder and chief executive at Trust & Will. "We have several vehicles we're utilizing in the Orange County area, and so far it's been a hit."
Payments are based primarily on mileage, but take into account other factors, such as time of day and whether the driving took place on busy freeways or over back roads, where fewer people would see them.
Overcoming COVID-19
"The early effects of the pandemic were being seen overseas. Little did we and the entire OOH industry know what was about to take place in our economies around the world," said Heller.
The company was forced to pivot to new verticals including food and grocery delivery.
"We adapted and reacted to an emerging new trend — the rapid adoption of app-enabled food and grocery delivery. Many of the 300,000+ drivers on our platform transitioned in part or fully away from rideshare to food and grocery delivery for platforms like DoorDash and Instacart," he said. 
As a result, last year the team deployed the most branded vehicles in a two-week timespan and was able to maintain its double digit growth as it launched a new SaaS offering powering Transit OOH providers with its software via Boost.
Its engineering team also doubled in size, to further advancements on its mobile app to improve the user experience, tracking GPS data, and stability, among other features. 
Bouncing Back
Looking forward, Heller said it's difficult to predict the future with the current economic uncertainty, however he's confident the OOH advertising industry will bounce back with a vengeance.
"People are getting outside as much as possible. Many schools are open. Businesses have reopened, too. For better or worse, people are tired of COVID-19-related restrictions and screen fatigue is a real thing. They miss getting out and about, and they are eager to get outside and to have in-person experiences," said Heller.
"This year will be one of tremendous growth for the OOH space and for Wrapify. Brands are back to spending and our Q1 pipeline proves this. Q2 will be our largest Q2 based on what is already booked so far. We're focused on hiring more engineers and building out our operation team. We want to stay in San Diego," he said.  
In total, Wrapify has raised roughly $10.2 million in venture capital funding and is actively raising funds for its Series B financing round. Headquartered in Solana Beach, it employs 16 staffers.