LIFE SCIENCES: LAB SHOWS THE IMPORTANT ROLE OF REAL TIME DATA IN DIAGNOSTICS REPORTS
Millennium Health Addresses Health Crisis Through Data
Tuesday, April 6, 2021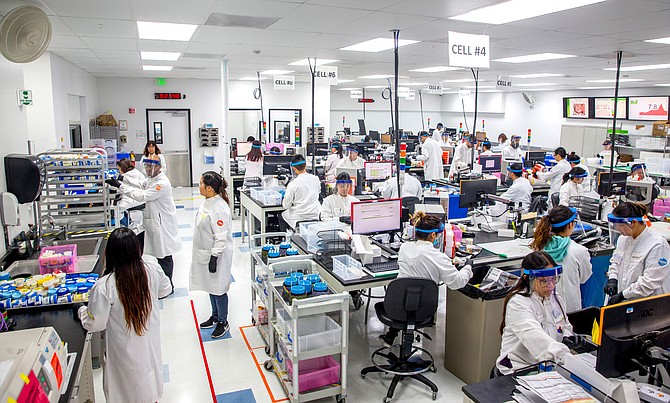 In business, they say "cash is king," but in science, consider data the king. At Millennium Health, a specialty laboratory focused on drug testing and medication monitoring, they are providing data resources to help clinicians understand important health care issues and nationwide drug use trends.
For instance, the company's annual Millennium Health Signals report examines regional and historical trends related to illicit drug use and emerging threats to public health in the United States.
Founded in 2007, Millennium Health is a Clinical Laboratory Improvement Amendments (CLIA) certified laboratory and is accredited by the College of American Pathologists (CAP). It also has HITRUST certification, which meets specific standards for information security.
The Rancho Bernardo-based private company has more than 300 employees and its local lab is optimized to process thousands of specimens from across the country each day, with a goal to turn around results by the end of the next business day.
Signals Report
Millennium released Volume 3 of its annual Signals Report called "The COVID-19 Connection:Tracking 2020 Trends in Drug Use" on Feb. 24. In addition to last year's annual report, Millennium released a specialized report on the unique issues posed by the coronavirus pandemic called "COVID-19 Special Edition: Significant Changes in Drug Use During the Pandemic" in July 2020.
In the most recent 2021 report, the findings describe a health crisis, within a health crisis. The report revealed that non-prescribed fentanyl and methamphetamine use increased 78% and 29%, respectively during the pandemic.
After releasing these findings, the work does not stop there explained Millennium Health's CEO, Andrew Lukowiak, who has led the company since 2018. He said that publishing this data is one of the ways Millennium is able to collaborate with clinicians, policy makers and public health agencies to make a positive impact on patients' lives.
For example, last year the company began working with the U.S. Department of Health and Human Services (HHS) to facilitate a larger conversation about national drug use trends using real time data and Millennium's Emerging Threat Intelligence Program.
While advancements in technology have made it possible to share large scale data today, Lukowiak said that as a leader, it all ties back to the experts on his team who help make sense of these trends.
"I have two of the strongest members on my team are Chief Medical Officer, Dr. Angela Huskey... I also have an incredibly talented CIO Dave Henderson," Lukowiak said. "And it was really simply providing a vision that with the data, and the tech stack that we have in place, plus the deep clinical understanding we have of the problems facing our clinicians today. How do we really merge the expertise of these two individuals, and provide something that, that can help hopefully save lives?"
Keeping the Conversation Going
With a PhD in genetics and almost two decades of experience in the diagnostics industry Lukowiak also shared how the pandemic has broadened the public's understanding of how valuable fast, accurate lab results can be when it comes to public health.
"I've spent almost my entire career in the space, and like I never thought we would consider diagnostic testing a household conversation," Lukowiak said.
As a specialized lab, he said the basis of their work in the clinical space is understanding that a physician needs access to rapid and reliable drug testing to provide, meaningful care to patients. One of the lessons he's seen people learn as a result of the pandemic is how vital the access to data is for public health in addition to learning about timely turnarounds and the quality of lab results.
"Throughout the pandemic, it's been the access to data that has allowed us to change public policy in rapid succession in terms of what type of government, state, local mandates need to be put in place, and a lot of ways it's very consistent with what we're doing with our data flow on, on the Signals Report...which is how do we respond to a healthcare crisis faster?" said Lukowiak.