TECH: CO. WILL OCCUPY ALL 4 FLOORS OF SORRENTO MESA BUILDING
Google Doubles Office Space in San Diego
Sunday, April 4, 2021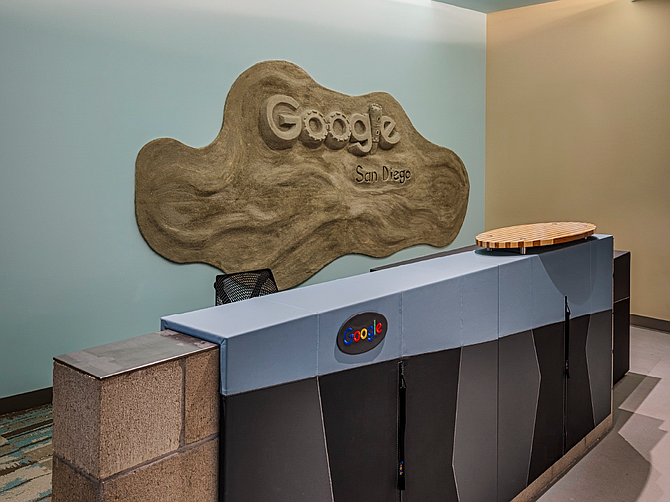 Google has announced ambitious, nationwide growth plans that include an expansion in San Diego.
The technology corporation intends to double its office space on Sorrento Mesa, leasing the remaining two floors of the four-story structure it occupies at 6420 Sequence Drive. The structure has almost 110,000 square feet, according to CoStar.
Google — which made its name in internet search and advertising — operates as part of a larger company called Alphabet (Nasdaq: GOOG).
Google characterized its San Diego expansion as part of a larger, $1 billion expansion in California and a $7 billion expansion in the United States. It announced plans to create at least 10,000 new, full-time jobs in the United States this year. It did not give specifics on local jobs.
A company spokesman offered few other details about the San Diego expansion, including the number of employees it currently has in San Diego County. The Sorrento Mesa office includes engineering teams working on a range of unspecified projects. There are also employees representing finance, sales and other teams.
The move comes as other large tech companies expand their San Diego footprints. Apple recently moved into 71,300 square feet the company leased at 9455 Towne Centre Drive, CBRE reported. Another tech company, Amazon, has been leasing industrial properties in locations such as Poway and Otay Mesa.
Google said in a March 18 announcement that it has 3,000 jobs in Southern California, and is also targeting Los Angeles for expansion. The moves will help local economies as they recover from the coronavirus pandemic, the corporation said.
"I believe a lasting economic recovery will come from local communities, and the people and small businesses that give them life," said Sundar Pichai, CEO of Google and Alphabet. "Google wants to be a part of that recovery."
A Tech Hub Grows
Google's choice to expand in San Diego points out several things about San Diego as a tech hub.
"Really what's driving this is talent," said Kevin Carroll, executive director of the Tech San Diego industry organization. "The region is increasingly being seen in terms of the talent that's here." Such recognition has been a long time coming, he said. UC San Diego and San Diego State University are filling the talent pipeline, he said.
"San Diego is full of smart people solving hard problems, and after the global challenges of the last year, there has never been more demand for that skill set," said Nikia Clarke, vice president for economic development at the San Diego Regional Economic Development Corp.
"The region has had one of the best venture capital quarters ever, demand for life sciences lab space has more than doubled, and innovation cluster jobs are growing rapidly. In a recent EDC business landscape survey, more than 80 percent of tech and life sciences companies said that the last year had fundamentally changed their industry AND that those changes had positioned them well for long term growth. Of course Google wants to grow here. Everyone does."
Ramesh Rao, director of the technology-oriented Qualcomm Institute at UC San Diego, sees increased ties between the local University of California campus and Google.
"My first reaction is that UC San Diego's strong academic programs, especially in economics, computer science, data science and design are already educating their future employees," he said. "This partnership will surely grow significantly in the near future. As we adapt to the post-COVID era, Google will likely be playing an even larger role in our lives, and San Diego's deep research strengths in engineering and life sciences will find its way into the marketplace even more rapidly."
Quality of Life Concerns
Tech San Diego's Carroll said that a second motivator for Google is San Diego's quality of life. Compared with Silicon Valley, "San Diego is a much easier place to keep your talent happy."
Silicon Valley has traffic congestion and very high housing costs. The cost of housing in San Diego looks reasonable when compared to that Northern California tech center, he said. (In 2019, Google announced a $1 billion initiative to increase the supply of affordable housing in the San Francisco Bay Area.)
Carroll also said it is difficult to keep high-performing teams together in Silicon Valley with so many large companies in close proximity.
Talent and quality of life are why Apple expanded in San Diego, too. "You're not going to see the last of it," Carroll said, saying that name brand technology firms are looking at San Diego to expand.
Branching Out
Increasingly, companies are looking outside their home turf.
"Google, Apple, Facebook, Amazon and Microsoft have all accelerated their hiring plans outside of their normal operating territories," said Rory Moore, CEO and co-founder of the EvoNexus technology incubator. "Talent in Silicon Valley still remains very expensive and highly competitive. I'm not sure what Google's working on locally, but keep in mind the company is a mile wide and an operation in San Diego is a short plane flight from Silicon Valley and makes a lot of sense."
Like Carroll, Moore said Google will have proximity to undergraduate and graduate talent from San Diego.
"Net, net it's all about talent and proximity to sectors Google feels to be important," including wireless, healthcare and the confluence of the two, Moore said.
Wireless is important to Google. It owns the Android operating system for phones and other connected devices. Neighbor Qualcomm Inc. produces chips that run Android devices. In addition, Google makes the Pixel line of smartphones.
San Diego has a strong core of tech companies but they are not household names, said Mike Krenn, CEO of Connect, a nonprofit that helps startups develop. He said Google will give San Diego one more household name and help draw talent as well as investment dollars.
"As companies have options to come to Austin, Denver and Seattle, it's important San Diego should be in that discussion," Krenn said.
Google's announcement of its 2021 expansion plans also highlighted the corporation's community involvement, with $23 million going to nonprofits serving Southern California.