E-COMMERCE: 'VENDING MACHINE' BUILDING PLANNED IN ESCONDIDO
Carvana Goes Touchless With Used Vehicle Sales
Sunday, September 27, 2020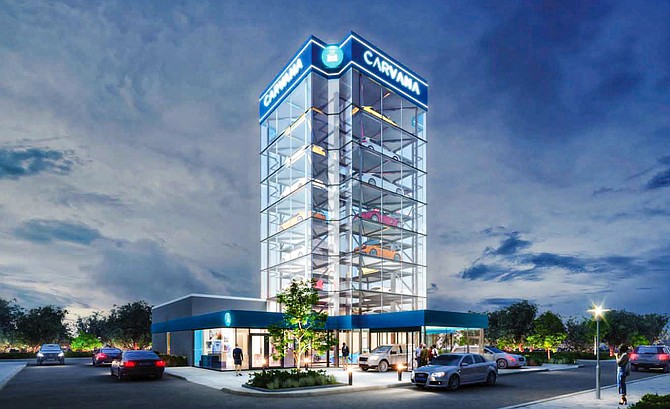 A hands-off approach to auto sales seems to be a concept whose time has come.
Carvana Co., a publicly traded business based in Phoenix, operates on that model with a playful twist. It builds fanciful automobile vending machines to sell its product — and to get people talking.
Carvana is essentially an e-commerce company that provides a touchless approach to buying cars — specifically used vehicles. It markets them on its website. The business said Sept. 22 that it expects record performance in the third quarter.
This comes as San Diego County saw used car registrations fall 11% during the first half of 2020, compared with the same period of 2019. The New Car Dealers Association of San Diego County collects the statistics. New car registrations fared worse because of the pandemic. During the first eight months of 2020, they were down 31% compared to the same period in 2019.
The Vending Machine Experience
In most circumstances, Carvana delivers vehicles to customers on flatbed trucks.
Those wanting the vending machine experience can find it in 25 locations around the United States — and soon in North County. To receive a car from a vending machine, a customer makes an appointment for a private visit. The customer is given an oversize coin, which is inserted into the machine to begin delivery.
Carvana's Escondido facility will consist of a 75-foot glass tower, showing off cars inside, on slightly less than 2 acres on the east side of Interstate 15 near the state Route 78 interchange. It is expected to be complete and operational by 2022, said a representative of Escondido's planning department. The City Council approved land use changes to accommodate the building on Sept. 23.
The Escondido structure will have eight tiers with four autos per tier. Only cars that were sold online will be loaded into the tower, according to the company. There will be no staff to initiate sales on site, nor will there be any vehicle service facilities.
A Touchless Experience
"Our touchless delivery process allows customers to shop for a car from the comfort of their home, complete their transaction on their phone or laptop, and take delivery of their new car without coming into physical contact with our delivery personnel," the business stated in a recent quarterly securities filing. "At delivery, we sanitize the car and communicate with the customer over the phone as they feel out the car and complete paperwork.
"Our employees and customers have given us positive feedback on this approach, and we believe it represents a significant step forward in the safety of retail auto sales in the current environment."
On Sept. 22, with roughly a week to go in the third quarter, Carvana said it expected to achieve record results in retail units sold, total revenue, total gross profit per unit, and EBITDA margin. EBITDA (earnings before interest, taxes, depreciation and amortization) is expected to break even during the quarter.
Geared Toward Internet Shoppers
To get to the root of Carvana's popularity, one needs to state the obvious: during COVID-19, consumers prefer the touchless experience. Consumers also like shopping online, viewing high-quality photos and knowing they are getting a guaranteed product with a seven-day return policy, said Brad Erickson, senior research analyst with Needham & Co. Following the news of third quarter financial results, Erickson increased his price target for Carvana from $200 to $265. Shares closed Sept. 23 at $218.67.
The analyst said he sees movement away from brick and mortar auto dealers, noting a "secular shift" to online car buying.
A second analyst said Carvana appeals to customers in the mid-20 to 40 age range, who have been around the internet all their lives, and who prefer to pay a fixed price for a car rather than haggle. Like Amazon.com, Carvana doesn't use retail facilities that eat into margin.
Erickson also noted the business has an attractive offer for fixed-income investors seeking cash flow in a steady stream. Carvana's car loans form the basis of asset-backed securities.
" … [W]e continue to believe that so long as fixed-income (FI) investors' desire for the predictable stream of cash flows from used car loans persists, equity investors will increasingly realize that a digitally native, online marketplace is the most efficient car retailing enterprise of the future to drive loan origination growth for those FI investors and therefore deserving of a premium multiple," Erickson wrote in a Sept. 23 research note.
Carvana has a partnership with Ally Financial. In March, Ally doubled its participation in a loan purchase program with Carvana to $2 billion.