BIOTECH: SORRENTO MESA FIRM CITES GROWING DEMAND FOR ITS PRODUCTS
Maravai LifeSciences to Expand Manufacturing at TriLink
Tuesday, September 22, 2020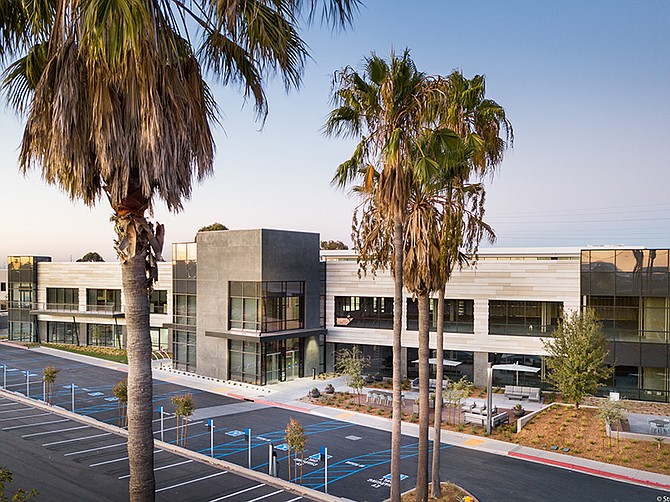 Maravai LifeSciences has announced plans to expand the contract development and manufacturing organization (CDMO) capabilities at one of its companies, TriLink BioTechnologies, for the second time in less than a year.
The expansion is expected to be complete in the first quarter of 2021. Financial details of the expansion were not disclosed, nor was the square footage.
In November, TriLink and Maravai opened their new, 105,000-square-foot headquarters in Sorrento Mesa. Following on the heels of opening five Current Good Manufacturing Practice (cGMP) suites, the new investment will further expand the operation with an additional three cGMP suites and four cGMP manufacturing support suites.
Mulitiple Goals
Maravai and its private equity owner, Chicago-based GTCR, will increase TriLink's small molecule manufacturing capacity with a focus on additional scale-up of its CleanCap product. CleanCap is TriLink's proprietary messenger RNA (mRNA) capping technology, for global mRNA vaccine and therapeutic programs.
In addition, TriLink is currently completing the construction of a plasmid DNA production facility. The company sees increasing demand for mRNA development and clinical programs.
"Biotech startups to large biopharma customers are outsourcing production to specialized CDMOs like TriLink to achieve efficiencies and ensure quality," said Carl Hull, CEO of Maravai LifeSciences, in a statement distributed by the company. "TriLink's second expansion provides these innovators with a single qualified and complete production partner for their nucleic acid and small molecule research and clinical programs."
A Who's Who
Maravai is a global provider of life science reagents and services to researchers and biotech firms. The business has the advantage of having some heavy hitters in San Diego's biotech scene involved.
Hull, its CEO, is the former CEO of longtime San Diego biotech Gen-Probe, which is now part of Hologic.
Greg Lucier, CEO of San Diego-based Corza Health, sits on the Maravai board. Lucier was the longtime chairman and CEO of San Diego-based Life Technologies. Thermo Fisher Scientific bought Life Technologies in 2014. Lucier went on to be CEO of spine surgery technology specialist NuVasive and is currently chairman of that company.
Maravai is not GTCR's only investment in San Diego.
From 2016 to the early part of 2020, GTCR held a sizable stake in Lytx, which offers the DriveCam telematics service for big-rig trucking companies and other fleet operators. An investor group led by Permira, a global private equity firm, spent more than $1 billion to take a majority stake in Lytx in early 2020.
GTCR also owned GreatCall, the wireless telecom company offering the Jitterbug service for older adults. GTCR sold GreatCall to Best Buy in 2018 for $800 million.
November Opening
In a statement, Maravai said the expansion positions TriLink to meet global demand for research- and GMP-grade CleanCap capping reagent, nucleoside triphosphates (NTPs) and development and cGMP services for mRNA therapeutics and vaccine production.
According to Maravai, the increase in demand for raw materials and active pharmaceutical ingredients is being driven not only by COVID-19 vaccine development but also by the rapid growth in investigational mRNA therapeutics and advancements in gene editing and cell therapy such as CRISPR, base editors and CAR-T therapies.
"By integrating plasmid DNA production, TriLink is eliminating the risk of production slowdowns from global supply bottlenecks and streamlining the path to and through clinical trials for our customers," said Brian Neel, chief operating officer of TriLink BioTechnologies.
The business is moving to a 24-hour, seven-day-a-week manufacturing schedule, Neel said.
TriLink describes CleanCap as a co-transcriptional 5' capping technology that generates a natural Cap 1 structure with higher mRNA capping efficiencies. CleanCap increases mRNA yields during transcription, simplifies and shortens the mRNA manufacturing process and results in higher levels of protein production. TriLink has developed a suite of CleanCap analogs for therapeutics and vaccines.
Maravai does not disclose revenue. It is also the parent company to Glen Research, Cygnus Technologies and Vector Laboratories.
TriLink BioTechnologies was founded in 1996. Maravai acquired the company in 2016.