Nanome Partners With Fujitsu
Tuesday, September 15, 2020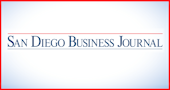 San Diego-based Nanome Inc., maker of virtual reality software has entered into an agreement with Fujitsu to bring their technology platform to the Japanese market. 
Fujitsu, a multinational information technology equipment and services company, will sell Nanome software licenses to Japanese pharmaceutical companies.
"Our partnership with Fujitsu will enable us to provide real-time scientific collaboration tools to companies at the forefront of the fight against SARS-CoV-2," said Steve McCloskey, CEO of Nanome. "By making it easy and intuitive for researchers to evaluate candidate molecules, we hope to help decrease the time it takes to get an effective drug to market and enable scientists to stay one step ahead."
Nanome's software is currently used by more than 15 of the largest biopharmaceutical companies in the United States. 
Founded in 2015, the company has raised $3.5 million in funding, including from Keshif Ventures, Sparkland Capital and several other investors.