SDBJ'S BEST PLACES TO WORK 2020 MEDIUM COMPANY WINNERS
WestPac Wealth Partners Develops its Associates While Helping its Customers
Thursday, September 10, 2020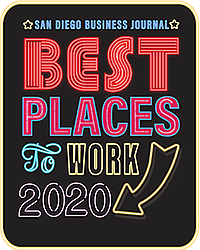 1. WESTPAC WEALTH PARTNERS
"We aim to enable all associates to reach their maximum potential, even beyond that which they currently believe they can achieve in all areas of their life." That is the lofty goal for WestPac Wealth Partners, a privately held financial services firm based in La Jolla with offices across the West Coast and Hawaii.
The company's efforts brought in some big dividends: WestPac was named the No. 1 firm in the medium sized employer category on the San Diego Business Journal's Best Places to Work list.
"We are super excited for the San Diego community. We are honored and thrilled," said CEO Nash Subotic. "This is positive news in the COVID-19 environment.
"It's been absolute banner year for us," Subotic added. The company did not just win the Business Journal award. It also achieved a No. 7 ranking on Fortune Magazine's 100 Best Medium Workplaces list.
As for diversity, the company's five partners come from varied backgrounds. "Think about it: very few companies have Asian, Black and White owners," said Subotic. "Everyone feels at home at our company" because of its diversity, he said.
An Evolving Set of Benefits
Helping employees reach their potential is reflected in WestPac's full range of training, support and compensation systems.
WestPac offers a comprehensive benefits program including health, medical and even college funding. It holds fitness and health competitions. To deal with the COVID-19 issue, WestPac adjusted its health benefits, making the move to provide 100% medical coverage for employees and their families. It doubled the life insurance provided to staff as well. It moved its happy hour events online, hosting virtual meetings for employees to connect while apart. It moved its daily training meeting online as well, providing connection and guidance from leaders of the company.
Among WestPac employees, the most-loved benefits include flexible work schedules, aimed at constant improvement of oneself; holiday parties and team-building activities outside of the office; and multiple awards banquets and trips.
Among its more creative perks are book of the month and Mastermind groups.
Looking at the Long Term
Although it is in the financial industry, WestPac's focus is on people development. The company teaches its associates to make short-term decisions with a long-term perspective, always focusing on doing what is right for their clients and thereby the San Diego community.
The leadership and the firm believe strongly in the constant improvement of its associates, letting them become the very best version of themselves, giving more to society than taking from it.
2. MILLER HULL
Miller Hull is an international architecture and planning firm with a reputation of designing environmentally responsible buildings and an office culture that inspires employees.
The Miller Hull Exchange program covers the travel costs for staff members to visit another studio to teach, learn and build relationships with other designers. When building a great workplace, Miller Hull AIA, Managing Principal, Katie Popolow said, "leadership is all about listening."
"We are so excited and proud to be named the second best place to work in San Diego for the second year in a row," Popolow said. "Miller Hull truly values the experience and environment it creates for employees and we continually work on improving our practice in a candid and transparent way."
Additionally, the firm strives for equity by creating a 50/50 gender workplace and maintaining a culture of transparency, fairness and justice.
3. EVOTEK
At EVOTEK, they take their commitment to work-life balance very seriously. The privately funded tech firm puts the employee first by hosting regular, team events at local breweries and at professional sports games.
Since 2014, the San Diego-based company has delivered cybersecurity solutions and innovative digital platforms to businesses.
"I have always believed culture is what's most important and a sincere focus on that singular part of our company will provide the optimal environment for experimentation; truly to enable our people to excel and ultimately address competitive advantage, as survival won't be in question," said EVOTEK CEO, Cesar Enciso.
EVOTEK's business model offers "employee-partners" to share in the success and annual profits of the company. At the end of each fiscal year, EVOTEK reinvests a portion of the yearly profit back into qualified employees.
4. C.W. DRIVER COMPANIES
C.W. Driver, LLC understands that one of their biggest differentiators in the industry is their people, which is why clients continue to do business with them. The 100-year-old construction firm creates structure in the company that allows for recognition and growth for employees.
For example, the Driver Launch High-Potential Leadership Development Program (DRIVE) helps emerging leaders within the company cultivate their skills in just 12 months. Additionally, the construction firm holds semi-annual development planning meetings that help employees manage their career development.
With offices up and down the West Coast, C.W. Driver's San Diego and Carlsbad locations serve a variety of industries, including education, commercial/office, technology, healthcare/biomedical, mixed-use, assisted living, entertainment, retail, industrial and civic.
5. NTH GENERATION COMPUTING, INC.
As a woman-owned company, Nth Generation Computing, Inc. is committed to fostering an inclusive and diverse work environment. With a hire slow strategy, Nth Generation makes sure they are building a team that is full of passion and commitment to their work.
Since 1991, the local tech company has been building relationships with businesses through IT solutions and providing extensive benefits to employees.
"I am thrilled to be recognized again as one of the best places to work for a second year in a row!," said Nth Generation CEO, Janis Baldwin. "For our team of "difference makers", this award is another confirmation of our team's success in living out our collective vision to "Deliver AWESOME in everything we do!"
The organization puts an emphasis on family with an employee appreciation getaway to Coronado to the perk of a Costco membership.
To view the FULL Event Recap, go to www.sdbj.com/2020BestPlacestoWork
To view the Special Section, go to https://rb.gy/vib6dd
To view the TOP 5 Mega Company writeups, go to https://rb.gy/o1v0en
To view the TOP 5 Large Company writeups, go to https://rb.gy/ogtjqo
To view the TOP 5 Small Company writeups go to https://rb.gy/3xmozd