SDBJ'S BEST PLACES TO WORK 2020 MEGA COMPANY WINNERS
RSM US LLP Strives for An Amazing and Challenging Culture
Tuesday, September 8, 2020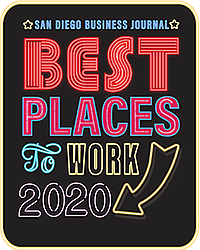 1. RSM
RSM US LLP cares about its talent. The company states strongly that they work to deliver the power of being understood not only to its clients, but to its people.
They call it the RSM Talent Experience. They work to empower each other to enhance their value and build successful careers at their firm and beyond.
Management expresses pride that the company builds rich, enduring relationships based on a profound understanding of each other, their goals and their aspirations. They believe that when their people feel truly understood, they are empowered to move forward with confidence – personally and professionally. This they say is the power of being understood.
The company's professionals are as unique and diverse as their clients. Investing in new training tools and resources are part of the culture at RSM. They are constantly working to enhance their talent experience.
"As a professional services firm, our greatest asset is our people. We strive for an amazing culture where our employees can be challenged and grow in a nurturing and fun environment. Whether it's our brand new office with ocean views, on-site fitness center, ping-pong table or kegerator with cold brew coffee and kombucha, we want to demonstrate to our people how much they mean to us and how instrumental they are to the success of the firm and our clients," said Jerry Varga, San Diego office managing partner.
"In a year where we experienced significant changes, including a shift to a remote environment due to COVID, it speaks volumes that our people believe RSM is a fabulous place to build a career," he said.
The company has 11 employee network groups to help promote culture, diversity and inclusion by hosting various events throughout the year. During their busy season meals are served Monday through Thursday and Saturday. Snacks are available in office along with ice coffee, kombucha and iced tea.
With RSM's "Dollars for Doers," the firm donates to a local charity for time employees spend volunteering. In the past they have donated to the Rady's Children Hospital, and the Blind Community Center.
During the COVID-19 pandemic the firm has prompted all employees to work from home allowing them to take any equipment needed with them. More physical and emotional health benefits have been available for all employees and their network groups worked to sponsor new weekly activities.
2. SWINERTON
From the beginning, this 132-year-old building company has put employees at the center of its business. The construction firm has headquarters in San Francisco and 19 offices throughout the West and in Atlanta.
Swinterton's Vice President and Division Manager, Mark Payne credits the employee-owned structure of the company as a key to their success in every project.
"At the end of the day, it doesn't matter what business you're in," Payne said. "You're only as good as the people you have around you. I think that is ultimately what's been a big factor in the success here at Swinerton."
Swinerton's San Diego office — which opened in 1993 — stands as one of the firm's largest locations with more than 300 employees based locally. The Builders and Renewable Energy divisions are in the Rancho Bernardo main office. One way the company gives back to employees is by hosting weekly catered lunches and hauling out a huge BBQ smoker to job sites and offices to create community.
3. SLALOM CONSULTING
With people at the center of their business, Slalom Consulting tries to build a workplace that encourages employees to show up as their authentic selves and get to know one another through team building events.
The Seattle-based consulting firm helps companies find solutions from business advisory, customer experience, technology and analytics.
"We were thrilled to earn the number 3 spot among so many other great companies in our first year of business," said Jim Sikora, the General Manager of Slalom San Diego. "Our employees have been challenged and empowered to help build a business that aligns to their values, embraces diversity, creates opportunities to give back to their community, and provides growth."
In response to the pandemic, the firm mandated work-from-home for all employees and also introduced a virtual happy hour every Friday to keep everyone connected.
4. JLL
With more than 250 years of experience in commercial real estate, JLL has partnered with businesses to help advise, manage and invest in a variety of properties. Throughout San Diego, JLL offers services in tenant representation, life sciences and construction management.
The commercial real estate firm also recognizes that their employees are their "greatest asset" and promotes work-life balance. On a personal level, the firm hosts events that allow employees to get to know each other's families outside of the office.
"A great company culture requires effort and constant evolution," said JLL Market Lead & Managing Director, Tim Olson. "This honor is the result of a team effort and having employees who care and are willing to speak up for the greater good."
In response to the pandemic, JLL offers employees flexible and staggered schedules as well as work-from-home support including virtual meetings and events to connect employees.
5. MCCARTHY BUILDING COMPANIES
At McCarthy Building Companies, Inc. they consider every employee a "Partner." The 154-year-old construction firm boasts its ESOP program which makes them a 100 percent employee-owned company.
Director of Business Development at McCarthy Building Companies, Suzy Cruden said this emphasis on partnership in the company and community allows for a collaborative environment that leads to excellent work.
"We are so proud to be a part of the San Diego community and are thrilled to be recognized, as our people have always been our priority," Cruden said. "We do our best to create an environment where our employees can learn and grow, but also enjoy the work they do."

From day one, full-time employees are offered robust benefits and all employees are encouraged to take at least one, paid day off to volunteer in the community through the McCarthy "Heart Hats" community involvement program.
To view the FULL Event Recap go to www.sdbj.com/2020BestPlacestoWork
To view the Special Section, go to https://rb.gy/vib6dd
To view the TOP 5 Large Company writeups, go to https://rb.gy/ogtjqo
To view the TOP 5 Medium Company writeups go to https://rb.gy/2yxoo1
To view the TOP 5 Small Company writeups go to https://rb.gy/3xmozd