SDBJ'S BEST PLACES TO WORK 2020 LARGE COMPANY WINNERS
C&S Cos. Works Hard to Keep Its Employees Invested
Tuesday, September 8, 2020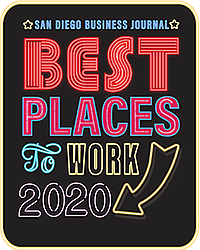 1.C&S COMPANIES
C&S Companies is an engineering and construction firm with offices across the country that, according to its employees, is a very special place to work. Making the list for the fourth time in four years and making first place for the last three lists says a lot about a company's investment in its team.
Based out of New York, the large, national firm has more than 470 employees and works hard to keep them invested and growing. C&S is an employee driven and culture centric firm and its leadership works hard to make sure every employee is treated equally no matter what their position.
Founded in 1968, C&S is committed to attracting the best people/talent while creating value for its clients. The firm highlights its core values as "Authenticity, Team Spirit, Integrity, All-in."
C&S is completely transparent when it comes to sharing information and financials with the entire company, which employees see as unique and beneficial. They hold team building events, regular happy hours, summer/winter outings, which include employee families, and various other corporate sponsored gatherings that all employees are encouraged to get involved.
"Most of what we do is behind the scenes, we maintain and build and develop the infrastructure that most people use every day but never think about, so it's rare that our team gets a chance to get recognized like this," said Michael Hotaling, senior vice president of aviation. "We are excited for this and it really is all about the team. It is the team that really makes this great culture."
Employee owned, C&S has various committees and groups within the company to give opportunities for each employee to get involved. These include its community service team, technical focus groups, and its women's leadership organization. They also have a non-profit within the company called the C&S Foundation which is an outlet where employees can give back and support the communities where they work. Turnover is also low because of employees feeling appreciated and supported. Employees also have access to wellness programs and unlimited sick days.
"I thank the team for all their hard work. I thank them for pivoting quickly in March when we closed the office and like others, we didn't miss a beat. Our IT team had us set up, we made the transition and kept working and delivered on the infrastructure projects that we have ongoing for a number of public and private clients. We are all excited about that," Hotaling said.
2. KIDDER MATHEWS
Kidder Mathews is the largest independent commercial real estate firm on the West Coast. The 50-year-old firm operates out of 22 west coast offices and leverages these locales and industry expertise to build strong relationships.
From its founding, Kidder Matthews' philosophy has stayed the same, said the firm's Southwest Regional President of Brokerage, Mark Read.
"Our philosophy from the day we started is we want it to be fun and we're not going to hire any knuckleheads," Read said. "We're a service industry so our people and culture are everything. It's real simple — have fun and no knuckleheads."

Kidder Matthews invests in hiring the right people and boasts employee retention as a key to success. The commercial real estate firm also offers a slew of financial and wellness benefits for employees — and its salesforce keeps up to 90 percent of its commissions.

3. RYAN, LLC
The leadership at Ryan puts a big emphasis on supporting employees' balance of work and family responsibilities through innovative policies. In June 2019, the corporate tax advisory firm launched RyanTHRIVE — a well-being platform that offered employees the tools to nurture their physical, financial, emotional, and career.
"I'm not surprised Ryan was awarded one of the Best Places to Work in San Diego," said Tom Loban, Ryan Principal of Property Tax, Commercial. "Ryan offers a lot of flexibility and support to maintain a professional environment."
Ryan is the largest firm in the world dedicated exclusively to business taxes with global headquarters in Dallas, Texas. In response to the pandemic, Ryan built upon its existing flexible workplace and regular communication with employees. The firm expanded sick leave benefits, offered Zoom training sessions and Ryan's CEO increased his monthly "Team Talk" call to twice per month.
4. SUNDT CONSTRUCTION
Each employee at Sundt Construction shares in a bit of the firm's success and profits; through the company's ESOP trust, Sundt is 100 percent owned by its employees.
According to Ryan Nessen, Vice President and San Diego Regional Manager at Sundt, he describes a great place to work in three words: "Skill, Grit, and Purpose."
"This is our 11th straight year selected as one of San Diego's Best Places to Work," Nessen said. "Sundt prides itself on its employee-owner culture. When every employee is an owner, every decision is built on values, purpose and pride in a job well done."
Sundt also invests in the future of the company through a tuition reimbursement program and administering the National Craft Assessment and Certification Program (NCACP) which allows employees to continually grow. Employees also have free-access to the Financial Wellness program SmartDollar to help them maximize their paycheck.
5. BNBUILDERS
BNBuilders is committed to investing in the communities they do business in. That starts with their Community Involvement Team which offers employees the opportunity to give back to local causes, like raising over $5,000 for the San Diego Food Bank.
BNBuilders is a West Coast general contractor specializing in complex projects for clients in the
biotech, education, healthcare, public and technology markets.
"This is one of the best awards we can receive, because it speaks volumes about how our people feel about working at BNBuilders," said BNBuilders Principal, James Awford.
Across its four West Coast offices, BNBuilders fosters a fun, family-run environment. As a construction firm, the group also highlights jobsite safety through its "On the Spot" recognition of an annual Safety Champion.
Awford added, "the foundation of our culture is trust; we trust our people to make the right decisions for our clients and our people."
To view the FULL Event Recap, go to www.sdbj.com/2020BestPlacestoWork
To view the Special Section, go to https://rb.gy/vib6dd
To view the TOP 5 Mega Company writeups, go to https://rb.gy/o1v0en
To view the TOP 5 Medium Company writeups go to https://rb.gy/2yxoo1
To view the TOP 5 Small Company writeups go to https://rb.gy/3xmozd