BIOTECH: ERASCA RAISES $236 MILLION
Working to Erase Cancer
Monday, September 7, 2020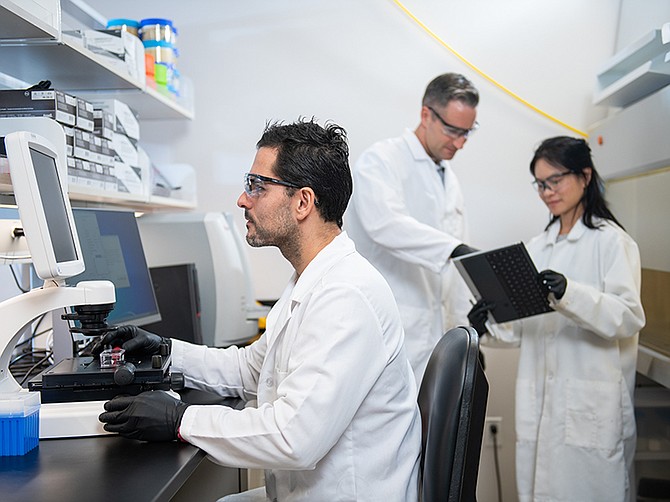 Erasca, a cancer therapeutics company seeking to eliminate cancer, has completed a $36 million extension of its Series B financing round, bringing its total Series B round to $236 million.
New investors include Partner Fund Management and OrbiMed. Chairman and CEO Jonathan Lim said the extension came in an expeditious timeframe, the funders will join an already outstanding syndicate of investors.
In total, the company has raised $300 million in financing from investors including ARCH Venture Partners, City Hill Ventures and Cormorant Asset Management, among others.
"This Series B financing will provide us with capital to drive multiple promising oncology programs into the clinic," said Lim. "The additional funding will also allow us to do the right thing for patients and not be limited financially."
Goal To Erase Cancer
Erasca's name, short for "erase cancer," is developing small molecule drugs and other therapies that target cancer-causing genes.
The two-year-old company has assembled a pipeline of precision therapies directed at undisclosed targets through in-house drug discovery.
The company is collaborating with several large academic and biopharmaceutical organizations to build out its active pipeline expansion.
"We have multiple discovery programs in the works," said Lim. "We are not disclosing which drivers the programs are targeting, just yet."
The company uses a blend of laboratory research and artificial intelligence algorithms such as OPRA (Oncology Pattern Recognition Algorithm) to make discoveries.
Cancer is estimated to cause death to about 600,000 people in the U.S. this year alone, according to the National Cancer Institute.
Lim noted that although the global economy has slowed due to the global COVID-19 pandemic, cancer has not, adding that there is a sense of urgency to help millions of people affected by cancer now more than ever.
Investor Interests
Reputable investors are backing the San Diego company because of its mission, deep experience, and proven track record, according to the company.
Bihua Chen, a portfolio manager at Cormorant Asset Management, said what caught their interest was Erasca's ability to assemble a team of executives with a legacy of multiple prior successes.
"Tackling a mission this large requires a combination of passion for the patient and strong business acumen," said Chen. "Jonathan's background as a physician and biotech company leader who has led multiple successful companies, along with the outstanding team he has assembled, position Erasca well in executing on its mission."
Lim is the former CEO of Ignyta, a local cancer-focused biotech company purchased by Roche for $1.7 billion in December 2017. A few months before he also participated in the sale of Bonti to Allergan, which he had co-founded and helped manage as chairman of the board.
In 2018, Lim started Erasca with Robert Shoemaker and Gary Yeung, who has stints at cancer diagnostics company Guardant Health (NASDAQ: GH) and antibody startup Annexon Biosciences.
Shoemaker is Erasca's vice president of biology; Yeung, who prior to his time at Guardant and Annexon spent 13 years at Genentech, is its chief business officer.
Global Impact
"When I served as CEO of Ignyta, we were addressing 2,000 patients with specific lung cancer in the U.S., and another couple thousand patients with another disease, which totaled around 4,000. Erasca will address a significantly higher number of patients, so we are excited about potential impact, not just in the U.S. but outside as well," said Lim.
Looking forward, Erasca's plan is to commercialize its drugs both in and outside the U.S., adding that over the next several years the goal is to have multiple programs in the clinic.
As of now, the company has no plans to go public.
Erasca, which is based in La Jolla, employs about 30 people. The company anticipates to expand modestly, capping at around 40 people.
This mega-round is among the largest for a San Diego biotech in the past four years, placing it in the same ranks as Gossamer Bio and Human Longevity.
In the past, financings totaling at least $100 million, were once relatively rare in venture capital. A decade ago PitchBook recorded four such deals by pharma and biotech companies totaling $800 million. By 2015, the annual deal value climbed to $2.7 billion. In each of the past two years, it has topped $5 billion.