LOCAL INVESTOR OWNS PROJECTS AT 24 UNIVERSITIES
Student Housing a Resilient Investment
Thursday, October 22, 2020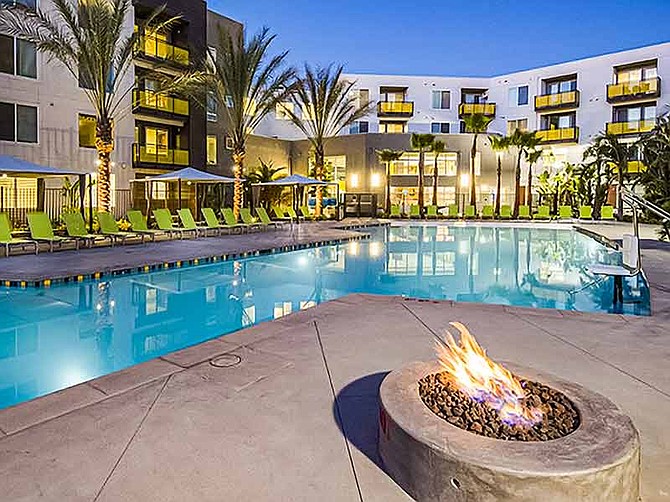 Despite outbreaks of COVID-19 at some college campuses and a switch by some to online classes, student housing is proving to be one of the most resilient markets for commercial real estate, according to Frederick W. Pierce IV.
"It's definitely a recession resistant investment and one that's particular good timing now that we're in a recession," Pierce said. "To show you our confidence, we're moving full speed ahead, even during the pandemic."
Pierce is president and CEO of Pierce Education Properties and an alumnus of San Diego State University.
Since he first got into the student housing business, Pierce's portfolio of student housing investments has topped $1 billion with his latest purchase of a student housing project in East Lansing, MI for $100 million.
Pierce said his company owns student housing projects at 24 universities, including SDSU, in 17 states. In all, Pierce's company owns more than 19,000 beds of student housing.
Student housing is measured in the number of beds rather than the number of apartments because space is rented by the bed verses by the apartment.
Pierce said one apartment might have three or four bedrooms with a common kitchen but with their own bathrooms.
Rents
Average monthly rents in his buildings run about $500, although Pierce said they're higher in urban settings. He said the average monthly rent for student housing in his San Diego projects is about $1,000.
"These properties are super amenitized. They're almost like resorts," Pierce said.
For example, he said the student housing property he just bought in Michigan has swimming pools, fitness centers, tanning beds, a business center and a hockey rink.
Pierce said student housing is a safe bet because students or their parents pay the rent on time. When a student signs a lease with his company, Pierce said their parents guarantee payment.
In September, 99% of students who lease space in his buildings paid their rent and in August, 98% paid.
The Experience
Even if students aren't going to classes in person, they want to stay in their own apartments rather than go home, Pierce said.
"They don't want to miss out on the college experience. Most kids were looking forward to it for most of high school," Pierce said. "College is about so much more than what you learn in a classroom. It's about educating the whole person. It's about growing up, making friends."
Pierce contends that the risk of infection from COVID-19 among those living in student housing is low.
"It's being transmitted out at the bars," Pierce said. "Being at college may be one of the safest places they can be."
Football as a Measure
Pierce's formula for investing in student housing is to go to schools that have powerhouse football teams. As a result, he said about 90% of his holdings are in the Midwest and the Southeast.
"We go to public universities that play Division One with a minimum of 20,000 undergraduates or 20,000 total students," Pierce said.
Besides being a football fan, Pierce said he uses football as a measurement because he figures big schools with strong football programs will have an equally strong enrollment.
"So many people want to go to those universities," Pierce said. "What you don't want is to be in a place that's challenged for enrollment. We want to have strong enrollments and we want to have strong retention."
Student housing is a niche industry which Pierce said has been consolidating since the mid-1990s, which is when he got into it, forming The Pierce Company Inc. in 1995. It became Pierce Education Properties in 2007.