Airbnb generated nearly $700M for San Diego in 2019
Wednesday, October 21, 2020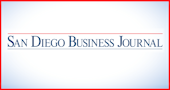 The San Diego Airbnb community generated nearly $700 million in economic impact in 2019, including an estimated $200 million in supplemental income earned by San Diego hosts.
The figures are based on internal Airbnb data and a 2020 survey of guests that booked a stay or activity in San Diego last year. The survey results also found the typical guest staying at an Airbnb listing in 2019 spent an average of $152 per day. All guests collectively spent more than $500 million on shopping, entertainment, groceries, transportation and restaurants.
"For more than 100 years, San Diego's long-standing short-term rental community has provided thousands of residents a way to earn critical income and make ends meet while supporting the city's tourism industry," said John Choi, Airbnb senior public policy manager. "By welcoming visitors into their homes, hosts are driving people to small businesses in every corner of the city, including those that have not traditionally benefited from the local tourism industry."
Travel & Hospitality reporter Mariel Concepcion can be reached at mconcepcion@sdbj.com or 858-634-4625.