Tri-City Medical Center Earns Eight Awards
Monday, October 19, 2020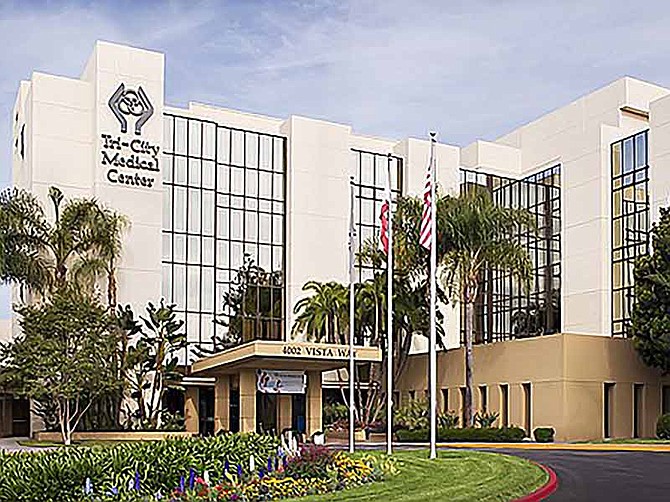 Oceanside's Tri-City Medical Center has earned eight certifications and awards from the American Heart and Stroke Association.
These awards include three Gold Plus Performance Achievement Awards for stroke care, heart care and resuscitation quality, as well as two Gold Level Awards for its care of patients with STEMI, or ST-Elevation Myocardial Infarction, heart attack.
STEMI is a particular highly lethal type of heart attack resulting from a blockage of one of the heart's major arteries.
Committed to Quality
"I am proud to celebrate these well-deserved recognitions that our employees, physicians, and leadership have worked tirelessly to achieve. Tri-City Medial Center remains committed to quality and delivering the highest standards of care and evidence-based practice for our community," said Steve Dietlin, Tri-City Medical Center CEO.
Achieving these certifications and awards in heart and stroke care requires a coordinated team of dedicated and talented physicians and front-line staff, including the emergency department, stroke team and interventional radiology, specialty cardiac care teams, and the hospital's pre-hospital emergency medical services partners, according to Aaron J. Byzak, chief external affairs officer at Tri-City Medical Center.
"At a time when most states have seen dramatic increases in cardiovascular related deaths during the COVID-19 pandemic, it's very important that our community members know that their local hospital is a leader in the treatment of these diseases and that it is not only safe but imperative that they seek care," Byzak said.
More than 2,500 Hospitals
More than 2,500 hospitals participate in the American Heart Association's "Get with the Guidelines Initiative," which works to ensure the best possible care for heart and stroke patients.
"Tri-City Medical Center is constantly pursuing opportunities to further elevate the care provided to our community including the adoption of innovative approaches to treating structural heart disease such as Trans Aortic Valve Replacement (TAVR) and Left Atrial Appendage (LAA) closure devices such as Watchman, as well as recently incorporating Viz.AI, an industry-changing platforming artificial intelligence technology that will pave the future for how stroke care is delivered nationally," Byzak said. "These technologies and our longstanding commitment to these areas of care have allowed us to recruit some of the top specialists from leading training programs around the country."
Tri-City Medical Center has served the San Diego north coastal region since 1961. The full-service acute care hospital has three primary care clinics and more than 500 physicians practicing over 60 specialties. It is also one of the largest employers in North San Diego County employing more than 2,100.
"The physicians, front-line staff and our pre-hospital emergency room care partners are the true leaders in this endeavor. These awards and certifications represent many years of continued commitment to this cause and reflect our unwavering dedication to our community's health and wellness," Dietlin said.
COVID-19
As communities move through COVID-19, Tri-City Medical Center has been on the forefront of adapting to an ever-changing healthcare landscape.
"We have successfully navigated many changes to the healthcare landscape and the COVID-19 pandemic is no different. Our front-line staff members have risen to the challenge and we have enjoyed tremendous support at all levels of the organization and in our community. Many people are experiencing fear and uncertainty during the pandemic but we want everyone to know that Tri-City Medical Center stands strong and resolute for our community and will provide quality, compassionate care in their time of need," Byzak said.
Other achievements awarded by the American Heart Association to Tri-City Medical Center include "Get With The Guidelines' Stroke: Type 2 Diabetes Honor Roll, Target: Stroke Honor Roll, Target: Heart Failure Honor Roll – Elite, and Target: Stroke Honor Roll Advanced Therapy. The hospital has also received a Gold Seal of Approval from the Joint Commission showcasing a commitment to safe and effective patient care for the residents of Carlsbad, Oceanside and Vista.
Tri-City's facilities include the hospital, nearby outpatient services, and orthopedic, primary care and urology clinics.