ANNUAL ORCHIDS & ONIONS AWARDS GIVEN OUT BY ARCHITECTURAL FOUNDATION
A Stinker and a Gem are Chosen
Thursday, October 15, 2020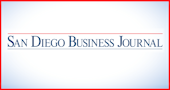 "Absolutely no redeeming value whatsoever."
So said 12 jurors in the San Diego Architectural Foundation's annual Orchids & Onions 2020 presentations about a downtown apartment complex that received the Grand Onion as the stinker of the year for architectural projects.
Orchids go to projects which jurors in the competition find particularly noteworthy and onions to those that fall far short.
Topping the list as the worst of the lot was the apartment complex at 1836 Columbia St. that is known simply by its address.
"The way it touches the ground is so bad it can't even be fixed," the jurors wrote. "Looks like a bubble-diagram that skipped the architecture/design part and went directly to construction."
Ben Dalton, co-chairman of the Orchid & Onions program, noted that 1836 Columbia St. got a snub from both professional jurors and teen jurors, who were new to the program this year.
"As San Diego continues to grow and densify, being the first design on a block that is shifting up in scale is a huge responsibility for the designer and developer to set the stage for what is to come," said Dalton, principal at the Miller Hull Partnership architects.
"Outside of maximizing the build envelope, it was hard for the jurors to see what this project offered to its neighborhood – present or future," Dalton said.
A Beautiful Project
Ah, but then there's The Center for Novel Therapeutics at the University of California San Diego that struck the judges as the best of the best, winning the Malone Grand Orchid.
"Elegant and engaging," was how the jurors described the research lab and office building designed by Perkins & Will and developed by BioMed Realty at 9310 Athena Circle.
"This is structurally fascinating," the judges wrote. "The use of materials is incredible. Innovative design, also encouraging innovation within. High-performance all around – generous, well-lit common areas, patient-centered design. Very well detailed."
Dalton said The Center for Novel Therapeutics was "a beautiful project."
"Viewed by the jurors as a light-filled modern design, The Center for Novel Therapeutics brought the right mix of timeless materiality and vibrant interiors in support of a collaborative research environment," Dalton said.
About half of the top floor of the three-story building was taken by UC San Diego Moores Cancer Center.