UNICORN TECH CO. NOW VALUED AT $1.6B
Seismic Raises $92M Series F Round
Thursday, October 8, 2020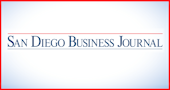 Seismic Software Inc., which designs software for sales professionals, has raised $92M in Series F funding.
Permira led the series F round with participation from strategic backers Ameriprise Financial and EDBI. Existing investors include Jackson Square Ventures, Lightspeed Venture Partners, and T. Rowe Price.
Founded in 2010, Seismic was launched in the North County coastal town of Solana Beach by Doug Winter, Ed Calnan, Fred Xie, Marc Romano, and Nasser Barghouti.
 "We founded Seismic ten years ago to enable marketing and sales teams to engage with prospective customers with the right content at the right time — delivering tailored, personalized experiences at scale," said Doug Winter, Seismic co-founder and CEO.
To date, the San Diego-based company has raised roughly $270 million in venture capital following a $100 million series E in December 2018. The software startup is one of a handful of "unicorns," or startups valued over $1 billion in the region.
The company has 600 customers for its product, including massive corporations including IBM (NYSE: IBM) , Cisco (NASDAQ: CSCO), American Express (NYSE: AXP), Capital One (NYSE: COF), and San Diego's Illumina (NYSE: ILMN).
Powering Sales Teams
The company's platform, which powered over 2.5 million sales interactions in 2018, leverages AI to automate parts of the sales and marketing cycle and personalize documents for sales reps.
Seismic essentially helps marketing and sales teams manage, automate and distribute personalized sales materials.
For example, its technology has the ability to glean useful info from sales content, like how much revenue assets are producing and the amount of time customers spend viewing them.
The company recently launched LiveContent, a feature that allows organizations to build and provide digital experiences, alongside "microapps" that deliver evergreen content like brochures, pitch decks, and interactive visuals.
900 Employees Strong
During the first half of the year, Seismic reported a 148% increase in active users over the prior-year period and a net retention rate of nearly 120%. More notably, the company passed $100 million in run-rate revenue last December.
The company's workforce stands at over 900 employees across 14 offices, after acquiring the Savo Group and New York-based Percolate.