ENERGY: SAN DIEGO BUSINESS MAKES ALTERNATIVE FUEL IN IMPERIAL VALLEY
Suburban Propane Takes 39% Stake in Oberon Fuels
Wednesday, October 7, 2020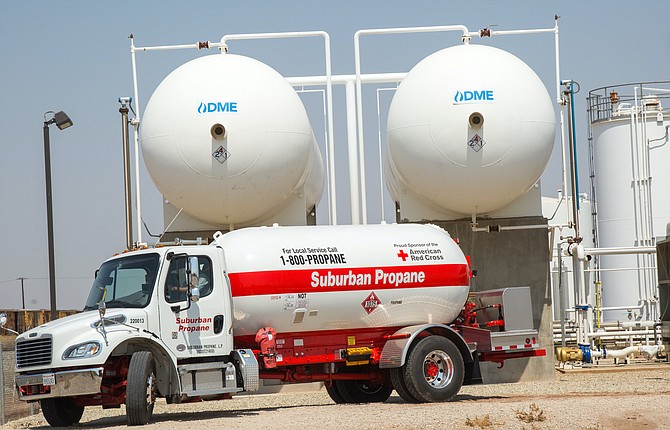 Suburban Propane has taken a 39% stake in Oberon Fuels, a San Diego business that produces low carbon transportation fuel at a manufacturing plant in the Imperial Valley. Financial terms of the deal were not disclosed. Suburban (NYSE: SPH) has committed to buy Oberon's product and may invest in a larger stake in the company. The deal was announced on Sept. 17.
Founded in 2010, Oberon Fuels is still pre-revenue. The California Energy Commission invested $2.9 million in the business in 2019, allowing it to expand its plant.
The business' product is renewable dimethyl ether, abbreviated DME. Suburban Propane is interested in the business because dimethyl ether can be blended with propane to serve as a fuel. The two materials blend well, said Rebecca Boudreaux, Ph.D., who was recently promoted to CEO of the company.
The deal originated in February at an innovation summit in Washington, D.C., where the chief executive of Suburban Propane introduced himself to Boudreaux. "I gave a talk about how DME and propane work together and that's how we met," she said.
An Eye on Decarbonization
"At Suburban Propane, we recognize the need to reduce the nation's carbon footprint and improve overall air quality," said Michael Stivala, Suburban Propane's president and CEO, in a statement issued by both companies. "The current clean-burning attributes of propane are a positive contributor to the goals of decarbonization, particularly when used as a replacement for gasoline and diesel in the transportation sector. Through our Go Green with Suburban Propane initiative, we are committed to the development of innovative solutions to further reduce the emissions profile of propane and to creating a pathway to zero carbon emissions.
"Our investment in Oberon Fuels is perfectly aligned with our strategic growth initiatives, and our commitment to being a pioneer in the transition to a sustainable energy future," he said. "We are very excited to partner with the team at Oberon Fuels to realize our joint vision of bringing DME technology together with propane to dramatically lower the carbon footprint."
A Byproduct of Paper Making
Oberon's plant in Brawley employs 10 people. The business uses leftover material from the paper-making process as its feedstock, or starting point for the fuel. It imports the material from Canada; there are more than 140 kraft pulp mills in Alberta.
In its early work, Oberon is completing one step in a three-step process of creating DME. It will undertake the complete, three-step process later.
Oberon has patents on its technology and "an extensive amount of know-how," Boudreaux said. The manufacturing process is protected with trade secrets.
Oberon produces its fuel in small batches. When it finally switches to its production phase, it plans batches of 10,000 gallons. The company's vision, Boudreaux said, is to build small plants in multiple locations.
In the future, Boudreaux said, Oberon plans to make dimethyl ether from the gas in dairy manure.
Proskauer Rose LLP served as counsel to Suburban Propane and Mintz, Levin, Cohn, Ferris, Glovsky and Popeo P.C. served as counsel to Oberon.
In other news, Gov. Gavin Newsom recently signed a bill that effectively lowers the tax on DME when used as a diesel replacement or to blend with propane. Previously, DME was taxed at a higher rate than other alternative fuels. n