BEVERAGE: SAN DIEGO-BASED BOOCHCRAFT, JUNESHINE AND LOCAL ROOTS SEE GROWTH
Hard Kombucha Sees Spike in Sales During COVID
Tuesday, October 6, 2020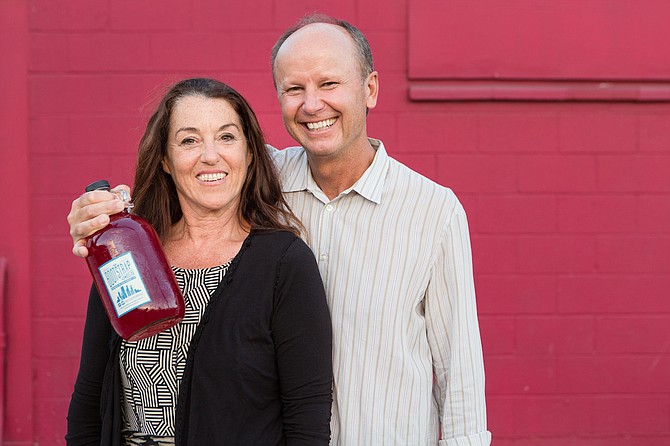 COVID-19 has changed consumers' food and beverage purchasing and consumption habits, leading them to make healthier choices.
Alcohol is no exception.
According to a January 2020 Nielsen report, the recent growth in hard seltzer is now being supplemented by a surge in sales of other hard beverage categories, primarily hard kombucha.
Kombucha is fermented tea. The fermentation process produces probiotic bacteria, which can be beneficial for gut health, and kombucha has less sugar and fewer carbs than traditional beer, wine and cocktails. Ordinary kombucha contains trace amounts of alcohol. A second fermentation process creates hard kombucha by increasing the alcohol content to something similar to lager beer.
Sales of hard kombucha have grown from $1.7 million in 2017 to more than $12 million in 2019, according to Kombucha Brewers International, a nonprofit trade group.
The global market for kombucha — both conventional and hard — is projected to grow from $1.36 billion in 2019 to $8.15 billion by the end of 2026, according to Industry Research.
Now, national publications such as Forbes and Well + Good are touting the high alcohol, fermented tea mix as the drink of 2020.
Local hard kombucha companies such as Boochcraft, JuneShine and Local Roots Kombucha, among others, are experiencing an uptick in sales, with founders attributing the growth to customers being more health conscious these days.
'Light in the Dark'
"I think people are looking for a light in the dark," said Boochcraft's Brandon Borgel, vice president of sales and marketing. "People are starting to make small decisions on behalf of themselves, their health, and voting with their pockets. They are looking at what products they are consuming, they are reading labels, what kinds of companies they are supporting and asking, 'what am I putting in my body?'"
Adam Hiner, co-founder of Boochcraft added: "I don't think people are drinking a lot more because of COVID, but I do think that people are choosing healthier options across the board, including when it comes to their alcohol. Our sales have increased dramatically since COVID. I would attribute that to our new brand, our team, new distribution and the shift towards better-for-you alcohol as well as the pandemic hitting all at once."
At the top of the year, Borgel said Boochcraft projected a 60% to 70% growth in revenue. When mid-March came around, he said sales were steady, although the company wasn't seeing much growth. But from June to Labor Day, Boochcraft saw triple-digit growth.
Borgel said Boochcraft is on pace to brew 32,000 barrels this year — or 992,000 gallons — up from 16,000 barrels in 2019, and is on track to double business year-over-year. Its revenue in 2019 was $9 million.
Sales Quadrupled
Forrest Dein, co-founder of JuneShine, founded in 2016, said the Normal Heights-based company is set to triple its 2019 revenue by the end of this year. From March through September, he said total sales quadrupled.
The reason for this is twofold, Dein said. One, people are more aware of the things they put what bodies since COVID. Two, the company was smart enough to pivot as soon as the pandemic hit.
"While people weren't able to buy products in bars and restaurants, they still wanted to drink. So we launched an online delivery system, delivering in two hours or less, in San Diego, Los Angeles and San Francisco," said Dein. "We were already well positioned to be the drink of choice through the pandemic and quarantine. Couple that with door delivery, it was the perfect combination."
JuneShine products are made with green tea and honey. Its core products have 6% alcohol by volume (ABV) and its newer, 100 calorie line is 4.2%. The brand is carried in about 25 states, said Dein, and the company has more than 30 wholesalers across the country, seven of those just in the state of California. JuneShine has roughly 25,000 accounts nationwide and will be in 35 states by next year, he said.
Secondary Fermentation
Kombucha is usually made with either black tea or green tea, or a combination of both, Dein added. It is fermented by adding SCOBY, which stands for symbiotic culture of bacteria and yeast. For flavor, brewers will add fruit and spices. A secondary fermentation process delivers the higher alcohol content.
Miro Copic, marketing lecturer at San Diego State University, credits millennials with the recent growth.
"Millennials have always been about authenticity — about the backstory and things with a purpose," he said. "These guys are organic and using real fruit. At the very least, you will find people who will say, 'I like what they are doing and I will give it a try.' The real question is, once people drink a pack, will they find it worth a second purchase?"
Hannah Crum, co-founder and president of Kombucha Brewers International, said the health benefits are most alluring for younger shoppers.
"Consumers are shifting toward more nutrient dense beverages and are more aware of probiotics and their digestive benefits — there are even brands of hard kombucha that are adding probiotics to their products," she said. "Seltzer paved the way for a lighter and more low-ABV alternative to beer and kombucha brewers are tapping into that demand by producing a light, alcoholic drink that might have a few more calories but also has other health benefits for consumers."
4,000% Revenue Growth
Founded in 2017 and launched late last year, Vista's Local Roots Kombucha is projected to grow 4000% this year, according to co-founders Ryan White and Joe Carmichael.
Before COVID, the company's business was 60% off-premise and 40% on. The mandated closures forced it to speed up its direct-to-consumer business in response.
As a result, Carmichael said Local Roots is expanding its production and distribution. From November onward, the company focused on San Diego and Los Angeles only. Last week, it expanded delivery to Northern California, he said, adding that it will begin selling at the Vista Sprouts as well.
The co-founders peg the recent growth mainly to functionality.
"People don't want 400 calorie beer anymore, they want something lighter," White said. "Kombucha is lower in sugar, lower in calorie and it is functional. In the world of COVID, health is more at the forefront of people's minds."
Local Roots' hard kombucha is 6% ABV and made of a custom blend of green and black tea. Five out of 16 flavors, including Cali Mule and Strawberry Mojito, get packaged.
Proprietary Blend
Encouraged by the recent success of hard kombucha, James Farnworth and Susan McMillion, owners of Bootstrap Kombucha LLC in Middletown, are currently working on launching their own version later this year. Made of a proprietary blend of green and black tea and at a 6% or 7% ABV, the owners believe the addition will help catapult their brand.
"What makes it so compelling right now is that everybody really just wants to relax," said Farnworth. "These are extremely stressful times and people want a bit of a break. Hard kombucha is fermented tea. What can be more relaxing than that?" n