Cross Border Adds Facial Comparison Tech
Originally published November 30, 2020 at 3 p.m., updated December 1, 2020 at 12:58 p.m.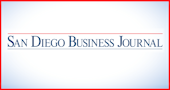 Cross Border Xpress (CBX) is improving its check-in process.
The 390-foot-long pedestrian skybridge that connects San Diego directly to the Tijuana International Airport has implemented a biometric facial comparison technology to its terminal. The addition, according to CBX CEO Jorge Goytortua, is to provide travelers a streamlined and secure touchless option, specifically during COVID-19.
Travel Experience
"The travel has been hugely impacted because of COVID-19, especially the first few months. But that number has been increasing month-over-month," he said. "In April, we were at 95% of customer count. By May, we were down 85%. Currently, we are at 30% down year-over-year. So, the market has been really improving. With this many people willing to travel, we are taking all sorts of different precautions to make sure the travel experience is seamless, secure, fast, efficient and especially touchless."
CBX has added eight physical facial comparison portals to be used by customers coming into the United States, said Goytortua, at the U.S. Customs Border and Protection (CBP) stations. Travelers arriving at the primary booth at CBP will have their photo taken, he said. Within a matter of seconds, that image will be linked to all of that individual's travel documents, allowing the customer to cross the border more expeditiously.
The biometric facial comparison technology is an initiative that U.S. entities have been implementing for a while, said Goytortua. But, CBX is the first pedestrian border bridge to successfully implement the feature.
Cross Border Xpress App
Concurrently, CBX launched the Cross Border Xpress app, he said. In addition to being able to purchase tickets via the CBX website and through airlines, passengers can now buy tickets more efficiently via their mobile devices. Additionally, travelers can fill out immigration cards and healthy questionnaires via the app, Goytortua said, the latter which is now a requirement for those traveling through Mexico as a result of the pandemic.
"Customers can link their tickets on the app and access CBX without any personal contact with someone," he said. "All of that developed within the last few months (since COVID-19)."
Fully Touchless
With the facial comparison advancement, CBX is pretty much fully touchless, which was the goal, said Goytortua. Also on the coronavirus front, CBX is making sure all travelers are practicing social distancing as well as wearing face masks, among other safety protocols. As a result, CBX was recently awarded a "Safe Travels" stamp, which is a global safety and hygiene certification by the World Travel and Tourism Council.