SD 500 Special Edition
Sunday, November 29, 2020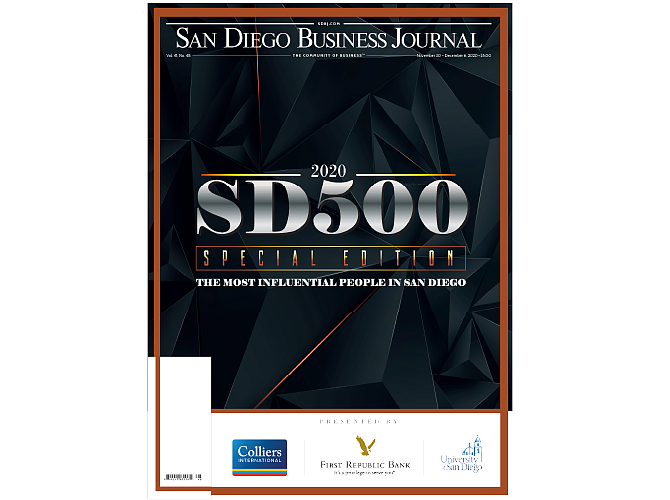 Click Here to View Full Special Section: https://rb.gy/2iq6tq
They are the kinetic energy in San Diego. They make the place move.
The 500 leaders profiled within these pages are the driving force behind the economy and the community in the southwest corner of the United States. Without them, the region stands still.
Today, as in years past, the San Diego Business Journal presents its list of 500 most influential community leaders with its SD500 special issue.
Tapping its staff and its networks, the team at the San Diego Business Journal assembled the list of individuals that now sits before you. Though some people make repeat appearances, the current list is not entirely the same as last year's. Which makes sense, because no two years are alike.
The SD500 is similar in scope to the San Diego Business Journal's Book of Lists, which tallies up San Diego's leading companies.
The SD500 groups its members by specialties or vertical markets, beginning with civic leaders.
Civic
2020 was a momentous year.
As COVID-19 disrupted familiar routines, San Diego's leaders changed course, and spent time and effort to get the community on a better footing.
There were people like Jim Floros, president and CEO of the Jacobs & Cushman San Diego Food Bank, which stepped up efforts to provide relief for the hungry during COVID-19. There were people like Nancy Sasaki, CEO of United Way of San Diego County, whose organization helped provide utility and rent payments to low-wage workers and those who faced a reduction in wages. And Deacon Jim Vargas, president and CEO of Father Joe's Villages, San Diego's largest homeless services provider. The latter organization's mission to provide comprehensive housing programs and integrated supportive services took on a new urgency as COVID-19 threatened the health of San Diego's poor.
As businesses slowed because of COVID-19, Donna DeBerry, president and CEO of the Central San Diego Black Chamber of Commerce, led efforts to put relief funds in the hands of Black business owners, who were underrepresented in federal business relief efforts. As public health rules limited restaurants' ability to operate indoors, people like Betsy Brennan, CEO of the Downtown San Diego Partnership, helped restaurants generate more business by moving tables outdoors into public spaces such as sidewalks and streets.
In addition to their new efforts, the people in our civic institutions did the same as they in 2019 and before by bringing business people together to improve the community.
Health and Sciences
The health and science community provided a backbone for the San Diego economy as international concerns turned to infectious diseases. It also helped those who fell ill.
Resmed, under the direction of CEO Mick Farrell, almost quadrupled the number of ventilators it produced for people fighting COVID-19. Dexcom, under the direction of President, CEO and Chairman Kevin Sayer, helped patients and health care providers keep diabetes in check.
Hospital leaders oversaw the treatment of San Diego's sick during the pandemic. The group included Steve Dietlin, CEO of Tri-City Medical Center; Jane Finley, senior vice president and area manager of Kaiser Permanente; Patricio Frias, president and CEO of Rady Children's Hospital and Health Center; Diane Hansen, president and CEO of Palomar Health; Christopher Howard, president and CEO of Sharp HealthCare; Barry Jantz, CEO of the Grossmont Healthcare District; Patty Maysent, CEO of UC San Diego Health; Robert Smith, director of the VA San Diego Healthcare System; and Chris Van Gorder, president and CEO of Scripps Health; as well as many others.
Real Estate
The SD500 includes the real estate experts, who turn the raw Southern California chaparral into new places to live and work. Just as significantly, they identify properties not quite living up to their potential and reinvent uses for them via infill development.
The U.S. Navy got a new administration building on the waterfront in 2020, with the help of Douglas Manchester, chairman of Manchester Financial Group, and Perry Dealy of Dealy Development Inc. The vision for the master-planned development surrounding the Navy headquarters changed, as IQHQ CEO Steve Rosetta and his team reimagined the area as a life science campus.
Luxury real estate kept its allure while housing in prosperous neighborhoods maintained value. Meanwhile, people such as James Schmid of Chelsea Investment Corp. worked to develop affordable housing options.
Leading Industries
Mike Krenn with Connect With San Diego Venture Group and Rory Moore of EvoNexus continued to mentor young companies with new, technology-heavy focuses. Jan Tharp, president and CEO of Bumble Bee Seafood Co., put new life into one of San Diego's oldest companies; the tuna industry's history in San Diego goes way back.
New U.S. Navy leaders came to the region. Rear Adm. Douglas Small became commander of NAVWAR (the information technology command previously known as SPAWAR) while John Pope became the civilian executive director of the organization. NAVWAR bears watching as the Navy moves to modernize its headquarters in Old Town. Across the bay at Naval Base Coronado, Vice Adm. Kenneth Whitesell became the new "air boss" in charge of aircraft carriers and those who fly from them. Whitesell's formal titles are Commander Naval Air Forces and Commander Naval Air Force, U.S. Pacific Fleet.
Professional Services
The attorneys, certified public accountants and others in the professional services category helped clients navigate the new normal. People like William Eigner, partner with Procopoio, Cory, Hargreaves & Savitch, helped clients with mergers and acquisitions. Cayce Lynch has facilitated unprecedented growth at the Tyson & Mendes LLP law firm, and in January became the youngest person in firm history to be named partner.
Victor Ramsauer, CEO of LevitZacks, led his company to be one of the best accounting firms to work for in the United States, as determined by Accounting Today, as well as the top small company to work for in San Diego — on a list compiled by the San Diego Business Journal.
The Bill Howe Family of Companies, run by Bill Howe and Tina Howe, marked its 40th year offering plumbing, heating and other building services. In 1980 there was not truck fleet, and headquarters was an apartment in Pacific Beach.
Finance
Members of the SD500 include the money people, who put capital to its best use. Venture capitalists and fund managers saw diamonds in the rough. Quinn Li, who leads Qualcomm Ventures, placed bets on exciting, technology-focused businesses. One of the more mature is Brain Corp., which gives service vehicles like industrial floor scrubbers the ability to operate autonomously.
Profit was not the sole motive. People such as Kim Folsom, co-founder and CEO of Founders First Capital Partners, dedicated themselves to addressing disparities in revenue and job growth among businesses led by underrepresented founders.
Education
At San Diego's universities, leaders developed new ways of doing things as it became apparent in the spring that people should not congregate on campus. Some, such as Chancellor Pradeep Khosla of the University of California, San Diego, simultaneously oversaw further growth and development of their campuses. Like other K-12 school administrators, Cindy Marten, superintendent of the San Diego Unified School District, took on a new role — seeing that the health and educational needs of her students were met in the face of COVID-19. She and other school officials in San Diego County worked to maximize the opportunities in distance education.
Technology
Qualcomm Inc. executives such as CEO Steve Mollenkopf and President Cristiano Amon continued to take fifth-generation (5G) wireless communication into the world at large. The speed of the technology promises great things for the market and for the company. Executives from Cox Communications, such as Senior Vice President and Region Manager Sam Attisha, Cox Business West Region Vice President Larry Coval and Vice President of Field Operations Ingo Hentschel kept people connected via internet and the mass media. With schools closed, businesses such as Cox stepped in to help, providing ways for homebound students to get to their lessons remotely. Also keeping local businesses connected via internet, was Duane Cameron, vice president of Cox Business.
Rick Baldridge took the CEO's job at Viasat with plans to launch fast, worldwide satellite service in a few years. Gerry Borja of Oracle worked to put more veterans to work in tech while also pushing for diversity and inclusion in general. Scot Chisholm and Classy helped raise funds to alleviate pain and promote good causes.
Lifestyle
Chip Brewer continued with big plans for Callaway Golf, announcing that he will grow the company with the addition of Topgolf — an attraction that combines the appeal of a driving range and a sports bar. At TaylorMade Golf, CEO David Abeles oversaw the insertion of data capture technology into the company's golf clubs, offering analytics to the player.
Maria Trakas Pourteymour and Sean Pourteymour of Luna Grill helped Southern California residents eat healthier; Luna Grill has been a growth story for the couple. Brigantine Restaurant Corp.'s Michael Morton opened several new venues on the Embarcadero, next to the sailing ship Star of India and San Diego Bay, attracting both locals and visitors.
Roxana Velasquez, executive director of the San Diego Museum of Art, took her institution's collection outside the walls and across state lines by expanding the museum's content on the internet. David Bennett, general manager of the San Diego Opera, staged performances of "La Bohème" in the parking lot of the Pechanga Arena, bringing both social distancing and a unique flair to the production. Even during COVID-19, culture endures, thrives and gives hope.
Icons
Members of the SD500 have done a lot. Not all of it has been exclusively their doing. Many of these people have inherited organizations and situations built by others. The SD500 stands on the shoulders of a previous generation of San Diegans, which we call the Icons. The number of icons grows every year. If San Diego was a sports team, these would be the people whose numbers had been retired. The icons are profiled elsewhere in this issue. 
Click Here to View Full Special Section: https://rb.gy/2iq6tq