Fit Athletic Club Owner Opens Café
Thursday, November 26, 2020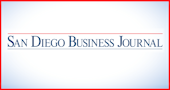 Scott Lutwak, owner of the San Diego-based Fit Athletic Club chain, just closed his five locations – again – due to COVID-19.
On the bright side, he just opened Baked, a café in East Village.
The global pandemic has led to three closures that have completely halted indoor activity at gyms. But Lutwak isn't mooning about it. Instead, he is focusing parts of his energy on this passion project.
At 1,000 square feet, Baked offers San Diegans a place to get sweet Czechoslovakian buns, as well as authentic bagels, coffee and tea, he said.
All goods are made fresh daily by his staff of nine and can be ordered for curbside pick-up at OrderBaked.com. Walk-ins are also welcome.
New Flavor to the City
"Czech buns are made of kolache dough, which is light, sweet dough, and it is something you don't see in San Diego very much," he said. "There is only one other place in San Diego that is doing these buns. So, I wanted to introduce this new flavor to the city."
Baked offers breakfast buns like jalapeno, bacon and sausage buns and spinach, egg whites and mushroom buns. For lunch, customers can have their pick between the likes of chicken and veggie buns and Mediterranean turkey burger buns, among other flavors.
So far, Lutwak said Baked, opened daily from 7 a.m. till 1 p.m., has sold out of its inventory every day. As business continues to pick up, he projects the cafe will serve 300 people a day, with an average check total of about $10, for a total of roughly $3,000 to $4,000 in sales daily.
Expand the Baked Brand
In the future, Lutwak said he hopes to expand the Baked brand.
"I would love to grow this into every neighborhood and every office building in San Diego," he said. "Every office deserves fresh baked, warm, cooked-on-a-daily-basis goods that you can't get anywhere. It's just hard to compare these buns to anything else we have available here."
The bagels are a treat, too, he said. Lutwak actually owned Brooklyn Bagel Co. with two partners, which was formerly housed at the Baked location. When the two partners divorced over a year ago, they hired a litigator that sold all the assets of the business without Lutwak's consent. Unhappy about the outcome, Lutwak approached the landlord about taking over the lease.
Except, this time, he decided to reopen the operation under a new identity and expand his offerings.