Zappogen Helps Cos. Fight Virus
Wednesday, November 25, 2020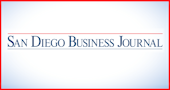 Zappogen, a distributor of hospital-grade disinfecting solutions, is helping hospitality establishments, restaurants, golf courses and other businesses set a new gold standard in disinfection.
Founded in June 2020, the San Diego-based company administers a hospital-grade spray to disinfect airborne and surface level areas from COVID-19, in a matter of minutes.
The company was launched by Dr. Jack Shevel and Sean Shevel, a father and son duo with a goal to help businesses remain open while saving lives. Zappogen taps new green technology that is effective against 40 pathogens.
"Zappogen is an all-in-one, comprehensive solution that administers a hospital-grade, fine micron mist to disinfect areas from harmful viruses, bacteria, germs and pathogens both in the air and on surfaces," said Dr. Shevel co-founder and managing partner of Zappogen. "This is not your typical spray-and-wash solution."
EPA Approval
Zappogen's product is powered by SpectraKill RTU, an eco-friendly disinfectant that was recently approved by the U.S. Environmental Protection Agency (EPA).
"SpectraKill RTU is one of the safest, most effective and affordable disinfecting options against COVID-19 and other pathogens available on the market today that transcends toxic chemical disinfection," said Thad Weist, CEO of SpectraShield Technologies. "Zappogen is distinctively capable of adapting our disinfectant into an all-in-one, easy-to-use solution that protects all areas from COVID-19. Together, our products will help stop the spread of COVID-19 and save lives."
Its electrostatic sprayers disinfect up to 99% of germs over expansive areas and surfaces, said Shevel. More notably, the company has quadrupled its sales over the last several months seeing an increase in revenue by 300%.
To date, the company has inked partnerships with a number of San Diego establishments, including The Crosby Club, Welk Resorts, the Lawrence Family Jewish Community Center, Dave's Hot Chicken and Rancho Santa Fe Golf Club.
Today, sales are split between the Zappogen site and whole selling to local businesses. Shevel said the company also plans to expand by providing its products to thousands of Senior living facilities. Looking ahead, the company projects revenue to exceed $10 million by the end of 2021.
"Just as 911 created a new security industry, COVID-19 has created a whole new disinfection industry," said Shevel. "This will be a multi-billion dollar industry."